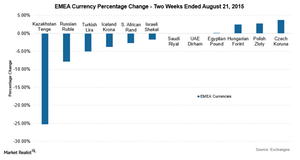 EMEA Countries Have Mixed Responses to Devaluation of the Yuan
By David Meyer

Aug. 26 2015, Published 3:42 p.m. ET
EMEA's diverse responses
Countries in the EMEA (Europe, the Middle East, and Africa) region have shown mixed responses to the devaluation of the yuan. The European subgroup in EMEA can be subdivided again into those with strong ties to the European Union and those that are more connected to Russia.
The strengthening of the euro will boost those countries with strong links to the euro. The countries that are more connected to Russia will be hurt by the yuan devaluation, along with falling crude prices and the depreciation of the ruble. In the Middle East group, most of the currencies are tightly managed by their respective central banks and some of these pegs are definitely under pressure. The major currencies in the African subgroup also have either fallen or are under heavy pressure to remove the pegs.
Article continues below advertisement
Major gainers and losers
The above graph depicts the movement of EMEA currencies for the two weeks between August 7 and August 21. The biggest losers in this group have been countries that are major trade partners with China and where the major export is crude oil, which has also been plummeting.
As is clearly evident in the graph above, the biggest loser was the Kazakhstani tenge, where the central bank relinquished control over the currency by moving to a free float regime. This was primarily driven by the fall in crude prices and the fall in the currencies of major trading partners like Russia and China. The major gainers in this group have been the currencies that have strong ties with the euro like the Czech koruna and Polish zloty.
Impact on the market
The iShares MSCI South Africa ETF (EZA) fell by 11.55% between August 7 and August 21. Over the same time period, the iShares MSCI Turkey ETF (TUR) fell by 12%.
Looking at the performance of the EMEA ADRs (American depository receipts) over the same period, the Turkcell Iletisim Hizmetleri AS (TKC) slid by 10.53%. African ADRs also fell over the period with Sasol (SSL) falling by 11.29%. Russian ADR Mobile TeleSystems (MBT) fell by 14.02%.