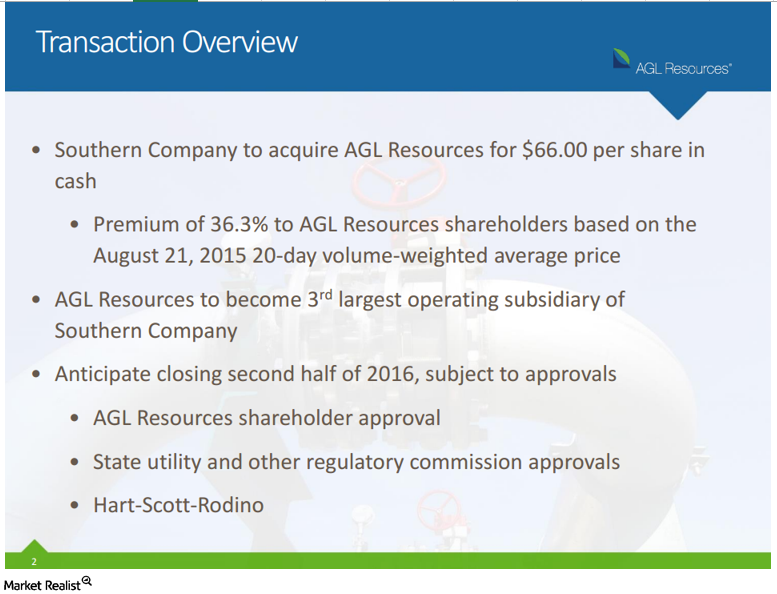 AGL Resources Purchase: Conditions Southern Company Must Meet
Basics of the transaction
Article continues below advertisement
Management comments on the transaction
"As America's leader in developing the full portfolio of energy resources, we believe the addition of AGL Resources to our business will better position Southern Company to play offense in supporting America's energy future through additional natural gas infrastructure," said Southern Company chairman, president, and CEO, Thomas A. Fanning. He added, "For some time we have expressed our desire to explore opportunities to participate in natural gas infrastructure development. With AGL Resources' experienced team operating premier natural gas utilities and their investments in several major infrastructure projects, this is a natural fit for both companies."
Conditions precedent
The following conditions need to be satisfied in order for the deal to close:
AGL Resources shareholder vote
U.S. Securities and Exchange Commission approval of the proxy statement
Hart–Scott–Rodino Antitrust Improvements Act filing
Federal Communications Commission approval
California Public Utilities Commission approval
Georgia Public Service Commission approval
Maryland Public Services Commission approval
Illinois Commerce Commision approval
New Jersey Board of Public Utilities approval
Tennessee Regulatory Authority approval
Virginia State Corporation approval
Article continues below advertisement
Nonsolicitation agreement and breakup fee
AGL Resources has a nonsolicitation agreement with a fiduciary out. This means that prior to shareholder approval of the transaction, AGL can discuss a merger with another suitor, assuming it's approached. If a bidder happens to come in and top the Southern Company bid, AGL Resources will owe Southern Company a breakup fee of $201 million.
How Southern Company will finance the deal
Southern will finance the transaction through the sale of stock and with new debt issued prior to close. The deal is not conditional on financing.
Other merger arbitrage resources