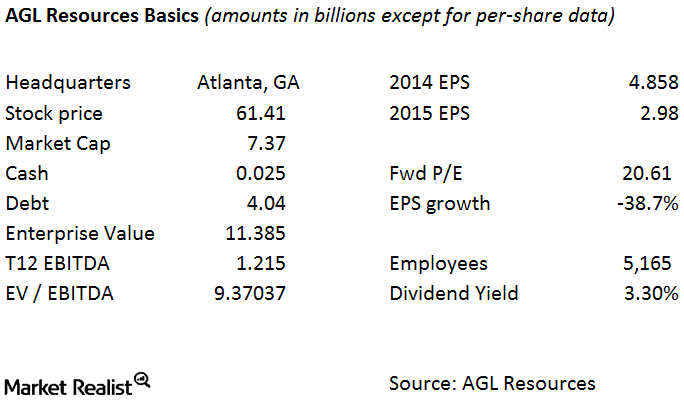 AGL Resources: Natural Gas Is Its Core Business
AGL Resources: A gas distribution company
AGL Resources (GAS) is an energy company that's primarily involved in the distribution of natural gas. Southern Company (SO) is an Atlanta-based electric utility that's buying AGL as a way to diversify its business and to secure its supply of natural gas.
This merger is being driven at least in part by new EPA (US Environmental Protection Agency) regulations designed to encourage utilities to get out of the coal business.
Article continues below advertisement
Business operations
AGL Resources operates four basic segments:
Distribution –This is the firm's regulated utility arm, which serves 4.5 million customers in the states of Illinois, Georgia, Virginia, New Jersey, Florida, Tennessee, and Maryland. AGL owns 14 distribution facilities and manages over 80,000 miles of pipeline. As a regulated utility, it gets an exclusive franchise, and regulators get to determine how much it can charge its customers.
Retail – This segment provides service in areas where there is competition. The firm serves 628,000 customers and has 1.2 million service contracts across 15 states.
Wholesale Services – This segment includes natural gas storage, asset management, and logistics services for AGL's managed utilities as well as outside customers.
Midstream Operations – The midstream segment includes storage and pipelines that provide other sources of natural gas to the company's customers.
AGL also has several joint ventures. It recently entered into a joint venture to build a natural gas pipeline from the Marcellus Shale region to New Jersey. It launched another joint venture to transport natural gas from West Virginia to Virginia and North Carolina. These two joint ventures began operating last fall.
Other merger arbitrage resources