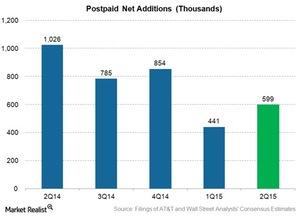 Net Additions to AT&T's Postpaid Clients Set to Collapse in 2Q15
AT&T's net additions in postpaid segment
In the last part of this series, we learned that AT&T boasts the best postpaid churn among wireless carriers in the US. The other main US wireless carriers are Verizon (VZ), T-Mobile (TMUS), and Sprint (S). We also discovered that AT&T's postpaid churn is expected to increase year-over-year, or YoY, in 2Q15.
In this article, we'll look at customer additions during 2Q15. AT&T's net additions in the postpaid segment are expected to decline significantly during 2Q15. As of July 14, 2015, Wall Street expected a YoY decrease of ~41.6% to 599,000.
As you can see in the above chart, AT&T's net postpaid additions were a significant ~1 million in 2Q14. That's much higher than what's being projected for 2Q15.
Article continues below advertisement
AT&T's net additions affected by phone category growth drivers
In a saturated, highly competitive US wireless space, acquiring new postpaid phone users has become an arduous task for wireless carriers. The strong take-up rate of smartphones such as the Apple (AAPL) iPhone is putting pressure on the overall growth of postpaid phone subscriptions. Once, smartphone adoption drove subscriber growth in the postpaid phone category. Now, the market has matured to the point where there are few new users to be had.
AT&T's net additions in the postpaid segment were also affected by phone subscribers in 1Q15. The telecom company lost feature phone users during the quarter. However, postpaid net additions from tablets contributed significantly to AT&T's postpaid net additions during the quarter.
For diversified exposure to AT&T, you could consider investing in the iShares Russell 1000 ETF (IWB). The ETF had ~0.88% exposure to the company at the end of June, 2015.
You may also get diversified exposure to AT&T by investing in the iShares Core S&P 500 ETF (IVV). This ETF had ~1% exposure to the integrated telecom company on the same date.