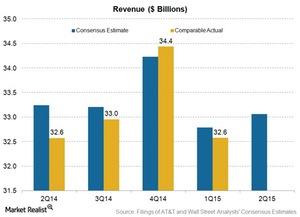 AT&T's Revenue: Marginal Growth Expected in 2Q15
By Ray Sheffer

Updated
Wall Street's expectations for AT&T's revenue
In the last part of this series, we learned that Wall Street expects muted year-over-year, or YoY, growth in AT&T's (T) earnings during 2Q15. Now we'll look at the telecom company's financial and operating metrics to understand the rationale behind Wall Street's expectations, beginning with AT&T's revenue.
According to the Wall Street analyst consensus as if July 14, 2015, AT&T's revenue should grow marginally during 2Q15. These analysts expect AT&T's revenue to grow by ~1.5% YoY to ~$33.1 billion this quarter.
Article continues below advertisement
Wall Street analysts have largely been able to predict AT&T's revenue since 3Q14. In 1Q15, AT&T's revenue was a marginal ~0.6% less than Wall Street's consensus estimate. In 4Q14, AT&T's revenue came in ~0.6% above Wall Street's consensus estimate. What's more, it was ~0.8% less than the consensus estimate for AT&T's revenue in 3Q14. In 2Q14, AT&T underperformed by ~2% with respect to Wall Street's revenue expectations.
AT&T's revenue in 1Q15
The YoY growth in AT&T's revenue was mostly flat in 1Q15, growing by ~0.3% YoY to ~$32.6 billion during the quarter. Excluding the impact of its Connecticut operations, which AT&T sold to Frontier Communications (FTR), the adjusted YoY revenue growth would have been ~1.2% during the quarter.
AT&T's revenue growth was negatively affected by its wireline services. Telecom companies, including AT&T, Verizon, CenturyLink (CTL), and Windstream (WIN), continue to see wireline services impacted by declining legacy services in voice and data.
Marginal YoY growth in wireless revenue was also a reason for the muted YoY growth in AT&T's revenue during 1Q15.
For diversified exposure to AT&T, you might consider investing in the iShares Russell 3000 ETF (IWV) or the iShares U.S. Telecommunications ETF (IYZ). AT&T made up ~0.8% of IWV as of June 30, 2015. And AT&T accounted for ~10.7% of IYZ's holdings as of the same date.