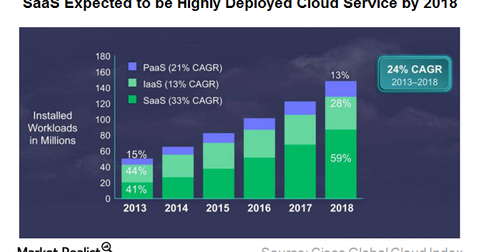 Salesforce.com to Benefit from Increasing Reliance on the Cloud
By Anne Shields

Updated
Salesforce.com should benefit from growth in sales-as-a-service space
In a May 22 article in Forbes, Louis Columbus cites research firm Gartner, which notes that in 2014, 47% of the CRM (customer relationship management) software sold was based on (SaaS) sales-as-a-service. Gartner says that the global CRM market grew by 13.3% to $23.2 billion in 2014, up from $20.4 billion in 2013.
Salesforce.com (CRM) led the worldwide CRM market in 2014 with an 18.4% market share. It registered revenue growth of 28.2% from 2013 to 2014. It's followed in the CRM space by SAP (SAP) and Oracle (ORCL), which in 2014 held 12.1% and 9.2% market shares, respectively.

According to the Cisco (CSCO) Global Cloud Index, and as the graphic above shows, SaaS is expected to be the fastest-growing cloud service through 2018. SaaS is expected to grow at a CAGR (compound annual growth rate) of 33%, while the cloud market as a whole is expected to grow at a CAGR of 24%.
Article continues below advertisement
Why technology firms choose the cloud
The chief reasons transition toward the cloud is expected to accelerate in the near future are the associated cost savings, convenience, and storage options. Owing to its multi-tenancy architecture, cloud service can be subscribed to on a monthly basis, and offers scalability for the data being stored.
According to Computerworld, a technology business magazine, 42% of IT decision-makers intend to increase spending on cloud computing services in 2015. This figure rises to 52% of IT decision-makers among larger companies with more than 1,000 employees. This speaks to the scalability and cost advantages of the cloud. The larger a company gets, the greater the need for a consolidated, cost-effective network of data storage.
Goldman Sachs expects the cloud computing infrastructure market to grow to approximately three times its current size by 2018, as the slide above shows. It also expects cloud computing costs to account for nearly 11% of total enterprise IT spending by 2018, up from ~5% in 2014.
For diversified exposure to Salesforce.com, you can invest in the Technology Select Sector SPDR Fund (XLK). XLK invests about 1.07% of its holdings in Salesforce.com.