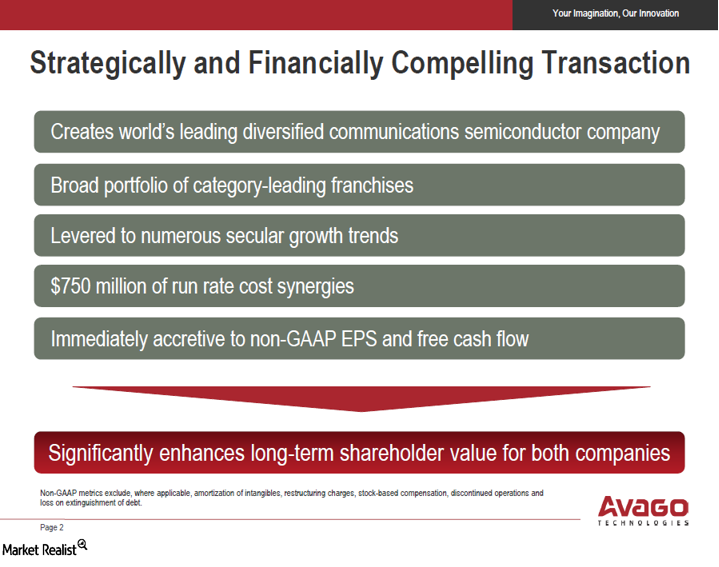 Be Ready for a Rough Ride If You Set Up the Broadcom-Avago Merger
By Brent Nyitray, CFA, MBA

Jun. 10 2015, Updated 5:05 p.m. ET
The annualized return is probably about right
In the Broadcom-Avago merger, you're getting about an 8.9% annualized yield. That's probably a reasonable return in such a low interest–rate environment, given the risks associated with the transaction. Since political risk is fundamentally unpredictable, you need to give it a wide berth.
The risk-reward ratio is being influenced by the behavior of Avago Technologies (AVGO) after it announced its deal with Broadcom (BRCM). Since Avago rallied on the deal announcement, it would make sense to presume it will return to its pre-deal price, but that's not a given. Arbitrageurs will support the price at least initially as they cover their short positions.
Article continues below advertisement
So on one hand, you have a low risk-to-reward ratio. On the other hand, you have a pretty wide spread for a deal with some political hair on it. Given the size of the deal, most arbitrageurs would have at least a small position and be waiting anxiously for the preliminary proxy statement to come out to see what kind of process was run.
Given the political risk of this transaction, it will be susceptible to volatility based on comments from politicians who may want to establish their populist bona fides. For politicians, there's really no downside to jawboning against an inversion. Arbitrageurs will take this into account and may want to trade the deal, loading up when some politician comes out against the deal and unwinding a bit when people get complacent. This deal probably will not accrete toward the final consideration like a "safe" deal will.
Other merger arbitrage resources