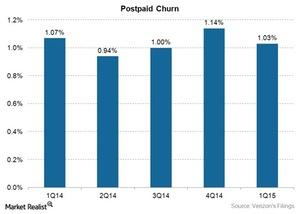 Tablets Help Verizon Manage Churn and Increase Usage
Tablets positively affect Verizon's postpaid churn
In the last part of this series, we learned that tablets are a growth driver for Verizon (VZ). In this part of the series, we'll look at some ways that tablets benefit Verizon. According to Verizon's CFO and executive vice president, Fran Shammo, "A customer who has a tablet on their account is less likely to churn than someone who does not." He spoke about this at J.P. Morgan's Global Technology, Media and Telecom Conference held on May 19, 2015.
Article continues below advertisement
Tablet users are sticky customers. They're beneficial to wireless carriers including Verizon, AT&T (T), T-Mobile (TMUS), and Sprint (S). Apart from driving customer growth in a saturated US wireless phone market, they also help the carriers manage churn. Specifically, they help wireless carriers retain existing customers in a very competitive US wireless space.
To some extent, tablets should have contributed to managing Verizon's churn in both 1Q15 and 4Q14. It's important to note that 4Q14 was very competitive. Verizon had the best postpaid churn among the four largest US wireless carriers.
Tablets facilitate increased usage for wireless carriers
Tablets help increase wireless carriers' data consumption—like Verizon. As we mentioned earlier in this series, the growth in mobile data traffic is expected to mainly be due to increased video usage in the medium term. Tablets help wireless carriers tap into this anticipated growth in video usage.
If you want to get diversified exposure to Verizon, you can invest in the iShares Russell 1000 Growth ETF (IWF). IWF held ~1.9 % in Verizon on April 30, 2015.
However, you can get more diversified exposure to Verizon by investing in the iShares MSCI ACWI ETF (ACWI). ACWI held ~0.5% in Verizon at the end of April.