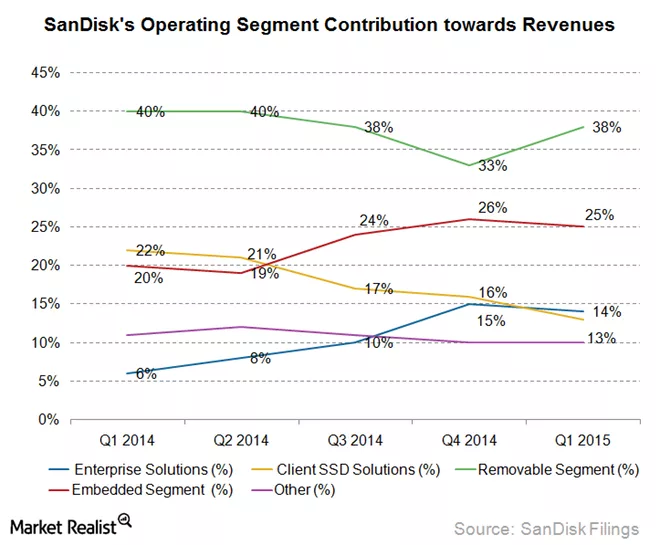 SanDisk's Share Price Plummets after Revised Revenue Outlook
SanDisk overview
SanDisk Corporation (SNDK) designs, develops, and manufactures data storage solutions in a variety of forms that use flash memory, proprietary controller, and firmware technologies. Its main competitors include Sony Corporation (SNE), Western Digital Corporation (WDC), and Micron Technology (MU).
SNDK constitutes 0.38% of the Technology SPDR ETF (XLK).
Article continues below advertisement
SNDK cuts revenue outlook, stock spirals downward
In January 2015, SanDisk (SNDK) announced that it would cut its revenue outlook for 4Q15 to $1.73 billion from an earlier estimate ranging from $1.8 billion–$1.85 billion. SanDisk's share price declined by more than 11% following the announcement.
The non-GAAP (generally accepted accounting practices) gross margin was also expected to decline to 45%, compared with an earlier estimate in the range of 47%–49%. Weak sales of its retail and iNAND embedded flash drive products were among the reasons for a revenue decline.
SanDisk declares disappointing 1Q15 results
On April 15, 2015, SanDisk Corporation (SNDK) released its 1Q15 earnings. The company's revenues and non-GAAP EPS (earnings per share) were $1.33 billion and $0.62, respectively, and fell below analyst estimates. On a GAAP basis, net income stood at $39 million, or $0.17 per share. This compares with $269 million, or $1.14 per share, in 4Q14. The significant decline in net income was due to impairment and restructuring charges.
In March 2015, SanDisk again revised its 1Q15 earnings for a second consecutive quarter and expected a 15% decline in revenues on a year-over-year basis.
This was SanDisk's first decline in quarterly revenue in more than two years, and the stock price fell an additional 6% in extended trading. Since the beginning of January 2015, the stock price has fallen from $98.58 to $67.73, a depreciation of 31.29%.
Article continues below advertisement
SanDisk grapples with business model, product mix issues
According to a company press release dated March 26, 2015, the reasons cited for the lowered revenue guidance included "certain product qualification delays, lower than expected sales of enterprise products and lower pricing in some areas of the business."
San Disk also noted that the product mix and offerings do not meet market expectations. Plus, the company's underperformance in the last quarter can be linked to a decrease in the market share for SNDK.
The road ahead for SanDisk
SanDisk's management also stated that the firm is planning to work on a new mix of products. It is also focusing on developing 3D NAND technology that has the potential to completely alter the landscape in the memory chip industry.