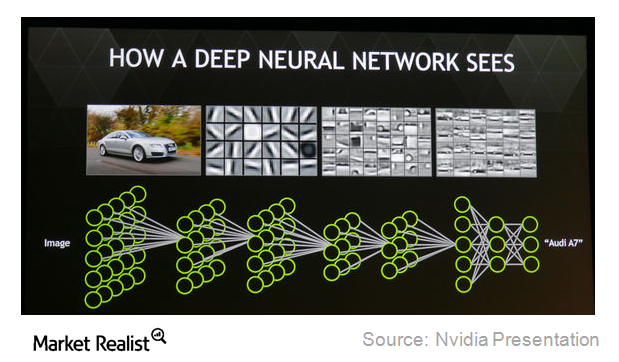 Nvidia's Drive PX Stands Out in the Self-Driving Car Space
By Anne Shields

May. 29 2015, Updated 3:07 p.m. ET
Drive PX: The self-driving car computing platform
In Part 1 of this series, we learned that in May 2015, Nvidia (NVDA) started shipping its Drive PX development kit to car manufacturers as promised. We also learned about the composition and features of the development kit.

The unique feature of Nvidia's Drive PX is that instead of using lasers, radars, and ultrasound to detect obstacles, there's a neural network at the base of its technology. The slide above shows how a deep neural network sees. The best part about this deep-learning system is that it's fully automated.
Article continues below advertisement
Because Drive PX relies on deep learning, it can learn to detect images it's never seen before. This is necessary for self-driving, in which quick responses or evasive action is required. The feature that makes Nvidia's Drive PX so appealing is its ability to handle input from twelve cameras, and use it to get a comprehensive view of the vehicle's surroundings.
Nvidia claims that the kit can infer things, such as the differences between various vehicles, like a taxi cab, an ambulance, and a police car. It can build a 3D map of objects around the car that enables it to self-park.
Nvidia is putting the technology it initially developed for gamers and graphics designers into its cars. And it's believed that this technology works much better on graphics processors than on the traditional processors provided by Intel (INTC) or designed by ARM (ARMH).
Drive PX has a crucial role to play in car manufacturer training. Eventually, onboard computers must be able to identify objects on actual roads as well as make decisions in real time about when to brake, swerve, or keep moving.
If you're bullish about Nvidia, you could invest in the VanEck Vectors Semiconductor ETF (SMH) and the PowerShares QQQ Trust, Series 1 (QQQ). SMH invests about 1.94% of its holdings in Nvidia, and QQQ, roughly 0.22% in the company.