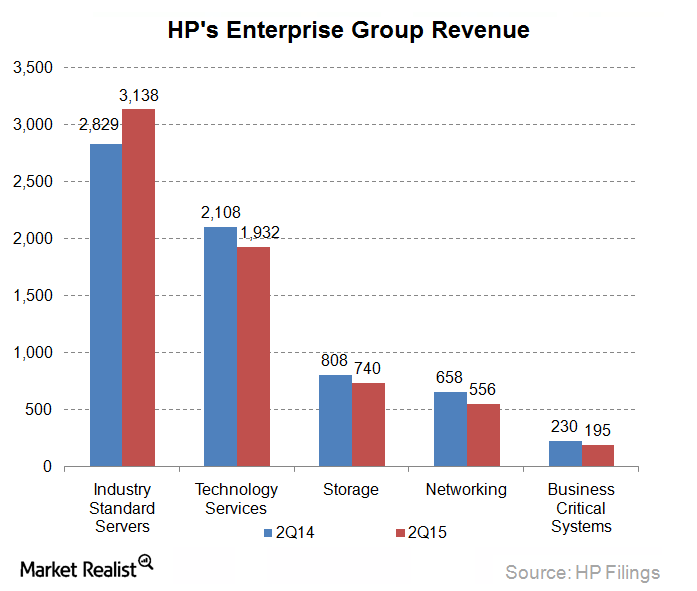 HP Industry Standard Servers Post 11% Growth in 2Q15
Industry standard servers post increased revenue in fiscal 2Q15
As we saw in Part 3 of this series, HP's (HPQ) Enterprise Group registered $6.56 billion revenue in fiscal 2Q15 versus $6.63 billion in 2Q14.
In the chart below, you can see that HP's ISS (industry standard servers) was the only division of the Enterprise Group to have posted positive revenue growth in 2Q15. HP's industry standard servers reported $3.12 billion in revenue in 2Q15 versus $2.83 billion in 2Q14, a YoY (year-over-year) increase of 11%. HP's ISS includes ProLiant rack, tower, blade, and dense servers.
Businesses are increasingly seeking customizable hardware for use in their data centers so that they can perform specific tasks—data processing or networking, for example. As a result, HP's industry standard servers or "commodity servers" have seen increased demand.
According to HP's CEO Meg Whitman, "The combination of Gen9 and the refresh cycle makes us fairly bullish on industry standard servers kind of throughout the rest of 2015."
Article continues below advertisement
HP leads in the global server market
According to research firm Gartner, HP continued to be the market leader in the global server space in 2014, with a market share of 27.9%. It's followed by Dell. And IBM (IBM), Lenovo, and Cisco (CSCO) are the other top five players.
According to a report from the IDC (International Data Corporation), Cisco's worldwide servers system revenue grew at a YoY rate of 19% in calendar 4Q14—much faster than the overall market growth of 1.9%.
According to the IDC report, HP experienced strong growth with its x86-based ProLiant servers in the EMEA (Europe, the Middle East, and Africa), Asia-Pacific, and Japan (EWJ). HP launched its next-generation Gen9 ProLiant server in August 2014. These servers are equipped with Intel's (INTC) Grantley platform.
Aside from having divested its x86 servers, IBM experienced negative growth because of losses with its POWER and z System mainframes.