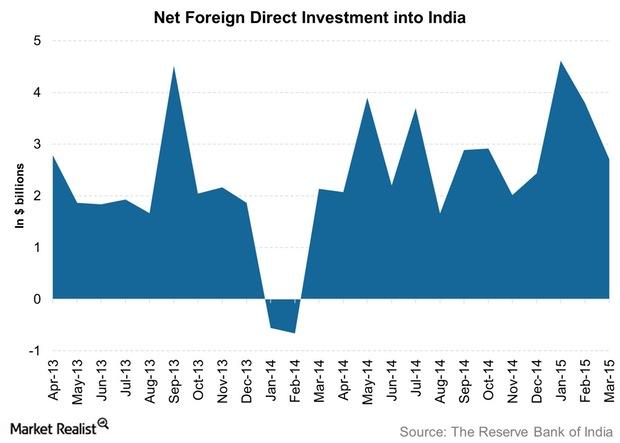 Foreign Direct Investment in India Up 61% since Last Year
By David Ashworth

May. 31 2015, Updated 10:06 a.m. ET
Foreign direct investment
Attracting FDI, or foreign direct investment, was one of the key promises made by the now one-year-old Narendra Modi–led government. Has the government kept its promise?
According to data from the RBI (Reserve Bank of India), India attracted foreign direct investment worth $34.9 billion between April 2014 and March 2015, or fiscal year 2015. This quantum was up 61.7% from the previous fiscal year.
It appears that Modi's trips abroad are working, and that his schemes and plans have attracted foreign direct investment into the country.
Article continues below advertisement
Foreign direct investment by country
Mauritius continues to be the country contributing the single-largest share of the foreign direct investment pie. According to data from the Department of Industrial Policy and Promotion, Ministry of Commerce and Industry, FDI equity inflows from Mauritius amounted to $8.4 billion between April 2014 and February 2015. With data for March 2015 yet to come, this amount could nearly double the $4.8 billion that came from the country into India in fiscal 2014.
FDI equity inflows from Singapore trailed Mauritius, with $6.4 billion in the fiscal year until February 2015, up from ~$6 billion in all of fiscal 2014. Inflows from the US have more than doubled to $1.7 billion, up from $806 million in the full-year ended 2014. FDI equity inflows from France have nearly doubled as well. Meanwhile, inflows from the United Kingdom have fallen by over 60%, down to $1.2 billion between April 2014 and February 2015. In the previous fiscal, the UK invested $3.2 billion in India.
Sectors attracting foreign investment
The services sector, which includes companies such as Infosys (INFY) and Wipro (WIT), attracted ~$2.9 billion in foreign direct investment between April 2014 and February 2015. Telecom is also a clear beneficiary, with $2.8 billion invested during this period, up from $1.3 billion in the entire previous fiscal. Computer software and hardware saw FDI equity inflows nearly double, from $1.1 billion in fiscal 2014 to $2 billion in fiscal 2015 up to February.
Drugs and pharmaceuticals (RDY) and the automobile industry (TTM) in India are other sectors attracting foreign direct investment (INDY) (EPI).
Clearly, foreign investors are looking at India as a viable investment destination.
Speaking of investment, let's see if India-related ETFs have attracted any inflow this past year.