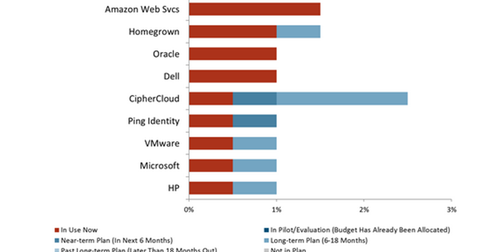 FireEye and HP Partner to Dominate Cybersecurity Services
By Anne Shields

May. 8 2015, Updated 10:07 p.m. ET
HP joins hands with FireEye
On May 1, 2015, FireEye's (FEYE) share price rose by ~5% after the company announced 69.5% growth in its 1Q15 revenues as well as an upward revision to its guidance for fiscal 2015.
In its earnings release, FireEye stated that it had joined hands with HP (HPQ) during the April RSA Conference, a security-focused event held in San Francisco. According to HP management, this partnership aims to provide "a comprehensive suite of security remediation services underpinned by FireEye's advanced threat detection, intelligence, methodologies and incident response expertise."
Article continues below advertisement
HP and FireEye target Cisco and IBM in the cybersecurity space
According to CRN.com, the HP security consulting business has more than 5,000 service professionals. Also, it's the fastest-growing business within HP Enterprise Services. Talking about the partnership with FireEye, Mike Nefkens, executive vice-president of HP Enterprise Services said, "Not only the Ciscos (CSCO) but the IBMs (IBM) and others of the world are going to feel that there is now a partnership out there that really has a dominant position in security services."
As we learned earlier in this series, the SMAC (social, mobile, analytics and cloud) revolution has forced organizations to consider cloud security as a top priority. The above chart shows that with a majority of tech players, cloud security is now in use.
Aside from its partnerships, FireEye is geographically diversified, with a presence in 67 countries and 3,400 customers. In late October 2014, FireEye issued a report stating that the UK is the most attacked country in the EMEA, consisting of Europe (EFA), the Middle East, and Africa.
FireEye's distinct offerings in the cybersecurity space
FireEye claims that its offerings are different from traditional signature solutions. FireEye's Threat Prevention Platform technology is different as its platform doesn't require "signatures" to protect users from threats that the traditional firewalls and antiviruses use. The company's virtual sandbox examines potentially malicious software in real time, enabling it to find exploits and vulnerabilities as and when the attacks occur.