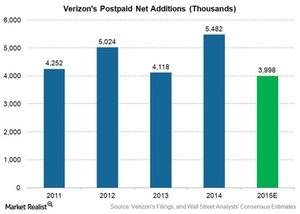 Verizon's Postpaid Connections Should Increase Steadily in 2015
By Ray Sheffer

Apr. 13 2015, Published 1:30 p.m. ET
Verizon had significant postpaid net additions from tablets in 2014
In the last part of this series, we learned about Verizon's (VZ) growing tablet connections. We also learned that Verizon expects these devices to support the growth in its postpaid subscriber base in the medium term. Now we will look at Verizon's overall postpaid subscriber base.
Postpaid is the dominant segment of Verizon's wireless division. Verizon's postpaid connections represented ~94% of the retail connections at the end of 2014. The remaining ~6% of the retail connections were prepaid.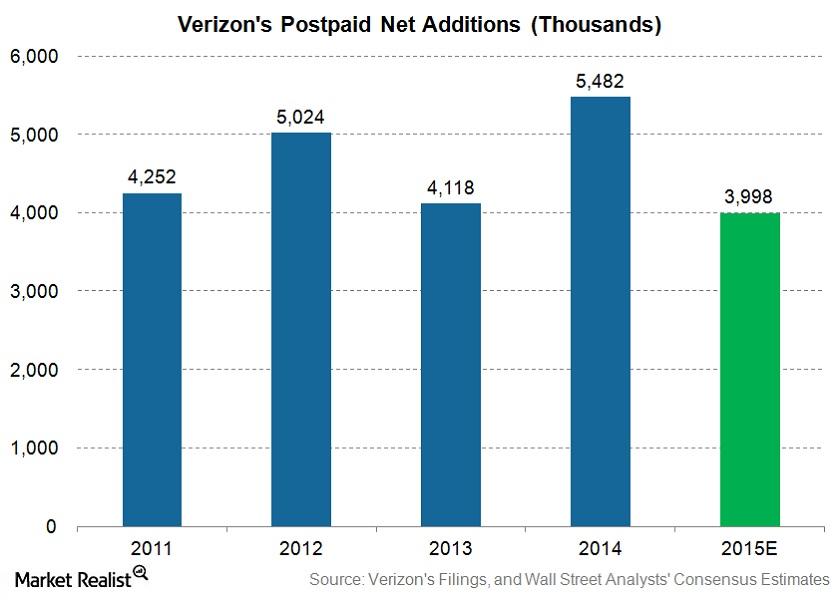 Article continues below advertisement
Verizon's postpaid segment witnessed robust growth in 2014. As you can see in the above chart, Verizon added ~5.5 million postpaid connections during the year. Most of these net additions came from tablet connections. The company's postpaid net additions from tablets were ~4.2 million in 2014. The significant ~4.6 million postpaid additions of 4G smartphones could not compensate for the loss of connections in other phone and Internet device categories.
Wall Street expects Verizon's 2015 postpaid net additions to decrease
Verizon expects its postpaid subscriber base to grow in 2015. The company anticipates an increase in tablets and smartphones to drive the growth of postpaid connections during the year. According to consensus estimates of Wall Street analysts, Verizon's postpaid connections should continue to increase in 2015. However, they expect Verizon's net postpaid additions to decline by ~27% during the year. Verizon's postpaid net additions grew by ~33% in 2014.
If you want to take a diversified exposure to Verizon, you can invest in the iShares Russell 1000 Growth ETF (IWF). This ETF held ~1.8% in Verizon on March 31, 2015.
You can even take a more diversified exposure to the company by investing in the iShares MSCI ACWI ETF (ACWI), which held ~0.5% in Verizon on the same date, as well as ~0.4% in AT&T (T) and ~0.01% in Sprint (S) on the same date.