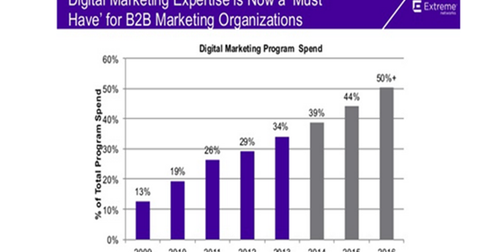 Oracle Expands Its Marketing Cloud in 2Q to Cater to CMO Community
By Anne Shields

Updated
Leveraging data from multiple sources is a challenge for the majority of CMOs
With the advent and arrival of SMAC (social, mobile, analytics, and cloud) there is an exponential increase in the data generated every day. Marketers are increasingly finding it difficult to connect this vast amount of data. Moreover, customers prefer moving from one channel to another, and at the same time engage with various products, brands, and services whether online or offline.
According to Oracle (ORCL), 85% of chief marketing officers (or CMOs) find leveraging data from multiple sources to be a significant challenge. Only 12% of marketers are of the opinion that their marketing is agile enough to drive sufficient business results.
Article continues below advertisement
To provide a solution to these challenges, Oracle introduced Oracle ID Graph to its marketing cloud. Currently, various campaign and journey tools available in the market create linear paths that are not sufficient and dynamic enough to keep pace with the unpredictable way people engage with brands in the real world.
To gain diversified exposure to Oracle, you can invest in the iShares US Technology ETF (IYW). IYW invests about 3.92% of its holdings in Oracle.
CMOs will be the key decision makers of marketing spending
According to Laura McLellan, a Gartner analyst, "By 2017, the average CMO would control more of the IT spend than would the average CIO." In October 2014, IBM (IBM) along with Wharton School started an executive program for CMOs to enhance their usage of big data and analytics. As the decision making regarding marketing spend is expected to lie in the hands of CMOs, Oracle has renewed its focus on this community for its growth.
Marketing is the fastest-growing segment of the enterprise software market
According to Forrester, marketing technology is one of the fastest-growing areas of the global enterprise software market. CMOs are increasingly dominating the spending in this space, which is worth approximately $1 trillion.
No wonder that Adobe (ADBE), Salesforce.com (CRM), and Oracle want to add enhanced features and updates to their marketing cloud suite to benefit from this high growth market segment.