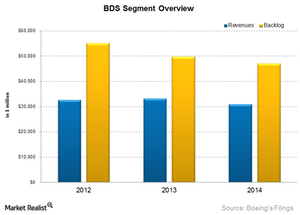 A Look at Boeing's Defense, Space, and Security Segment
By Ally Schmidt

Apr. 9 2015, Updated 12:11 p.m. ET
Defense, Space, and Security
Boeing's Defense, Space, and Security (or BDS) segment is the company's oldest and signifies its core competency. This segment designs, produces, modifies, and supports military fixed-wing aircraft, rotorcraft, weapons, and satellite systems. This segment was most affected by the sequestration budget reductions and still faces challenging conditions domestically.
The BDS segment has a broad portfolio that includes:
702 satellite series
AH-64 Apache helicopter
cybersecurity
EA-18G electronic attack aircraft
KC-46 aerial refueling aircraft
P-8 anti-submarine/anti-surface warfare aircraft (based on 737 commercial jet)
Phantom Eye unmanned aircraft system (liquid hydrogen–fueled)
Boeing's BDS segment is further divided into three capability-based businesses:
Boeing Military Aircraft (or BMA): This subsegment is engaged in the production of manned and unmanned military weapons systems. This business unit contributed to about 43% of the segment's revenues and about 15% of Boeing's total revenues in 2014. Some of its major programs include:
F/A-18E/F Super Hornet
EA-18G Growler Airborne Electronic Attack
CH-47 Chinook
AH-64 Apache
F-15 Strike Eagle
Joint Direct Attack Munitions
Article continues below advertisement
Network and Space Systems (or N&SS): This subsegment focuses on developing products and services to assist its strategic missile and defense systems, electronics and information systems, and space and intelligence systems. This subunit contributed to about 25% of the segment's revenues and about 9% of the company's total revenues in 2014. It also includes the company's joint venture operations with Lockheed Martin (LMT) related to United Space Alliance.
Global Services and Support (or GS&S): The GS&S subsegment provides a range of products and services that include:
aircraft modification, maintenance, and upgrades
supply chain management and engineering support
government services and pilot and maintenance training systems
Boeing's major customer in this segment is the United States government. For these orders, it must compete with players like Lockheed Martin (LMT), Raytheon (RTN), General Dynamics (GD), Northrop Grumman (NOC), and United Technologies (UTX). The iShares US Industrials ETF (IYJ) has a 3.64% exposure to Boeing (BA) stock, while the Industrial Select Sector SPDR ETF (XLI) has a 5.17% exposure to Boeing stock.
Next, let's explore the functions of Boeing's support units.