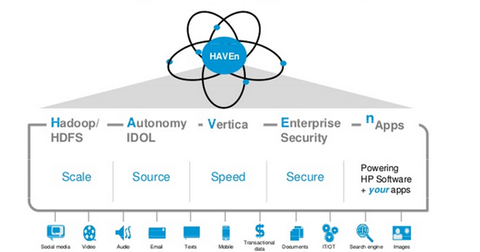 HP Launches HP HAVEn Connector Framework in April
By Anne Shields

Apr. 15 2015, Published 8:52 a.m. ET
HP launched HP HAVEn Connector Framework to integrate its database and data analysis platform
In the previous part of the series, we discussed Oracle's launch of Oracle Data Integrator (or ODI) for the big data space. Apart from Oracle's attempt to connect the big data tools with traditional data analysis software, Hewlett-Packard, has also joined this initiative this month.
A few days back, HP (HPQ) launched the software HP HAVEn Connector Framework, which integrates its Vertica analysis database with Intelligent Data Operating Layer (or IDOL). IDOL is a data analysis platform that HP acquired in 2011. HP also acquired the Vertica database through its acquisition in 2011.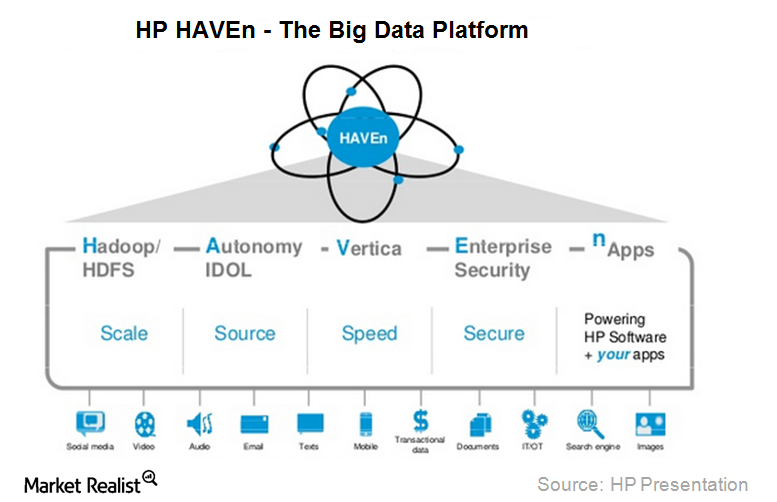 Article continues below advertisement
Vertica Analytics Platform is a database software that was built and designed to analyze huge amounts of structured data. Vertica uses the Structured Query Language (or SQL) to do the analysis. Intelligent Data Operating Layer (or IDOL), on the other hand, was built and designed to list and find unstructured data.
To gain diversified exposure to HP, you can invest in the iShares US Technology ETF (IYW). IYW invests about 1.62% of its holdings in HP.
SMAC has necessitated the need to get insight from unstructured data
Owing to the SMAC (social, mobile, analytics, and cloud) revolution, the majority of the data coming in is in a semi-structured or unstructured format from social media, audio, video, texts, and emails.
According to Jeff Veis, vice president (or VP) of marketing for big data, HP's software delivers "a mixture of statistical and contextual understanding." He further stated, "You can pull in any form of data, and then do real-time high performance analysis."
Article continues below advertisement
By combining Vertica and IDOL, through this software HP aims to enable access to unstructured data resources that can be analyzed with Vertica's capabilities. This step thus aims to offer better data analysis into the unstructured data, which is the need of the hour. This integrator, HP HAVEn Connector Framework, is among 50 additions that HP has made to its HP HAVEn Big Data Platform, as the above presentation shows.
Other leading players in the connector space
In this connector space, Oracle's (ORCL) OutsideIn and Salesforce's (CRM) EntropySoft, a content integration and migration provider, are also present. Microsoft (MSFT) Exchange uses Oracle's OutsideIn technology, which enables document extraction and conversion from diverse file formats. According to Oracle, "OutsideIn Technology is a family of software development kits (or SDKs) that provide ISVs various methods to access, transform and control unstructured content."