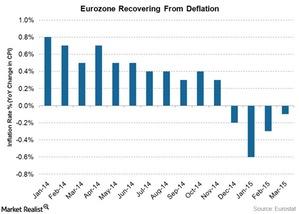 Deflation Continues in the Eurozone: VGK Down 1.43%
By Surbhi Jain

Nov. 20 2020, Updated 4:49 p.m. ET
Deflation continues in the Eurozone but recovering
Consumer prices in the Eurozone remain in negative territory, according to the latest inflation data released by Eurostat. Inflation was reported to be -0.1% in March. So, the Eurozone remains in a state of deflation.
The Europe-tracking WisdomTree Europe Hedged Equity ETF (HEDJ) declined by 2.11%, and the Vanguard FTSE Europe ETF (VGK) was down by 1.43%. ArcelorMittal (MT) was down by 3.33%, STMicroelectronics (STM) declined by 3.16%, and Deutsche Bank (DB) lost 2.77%. Lloyds Banking Group (LYG) dipped by 1.45%.
Article continues below advertisement
Yet, with the European Central Bank's 60 billion euros a month stimulus package helping the inflation rate recover, investors in the Euro area could soon see consumer prices at a level that would officially lift the Eurozone out of deflationary territory. The inflation rate has already recovered from -0.6% in January, to -0.3% in February, to -0.1% in March.
There were also some positive indicator readings from the UK labor market.
Jobless rate in UK falls to forty-year low
The Office for National Statistics in London came out with their latest labor market report for the UK on April 17. According to the report, unemployment claims, known as jobless claims, fell to their lowest level in four decades. And, wage growth improved. The claimant count now stands at 772,400 or 2.3%.
The unemployment rate based on the International Labor Organization methodology fell to 5.6%, the lowest it's been in over six years. What's more, with the inflation rate at zero, households are enjoying continual real wage growth.
As Prime Minister David Cameron tries to convert improving economics into votes for the upcoming May 7 general elections, investors may expect more good news from the region.
Stay updated on our latest analysis on the US (SPY) (IVV), Eurozone, and the world macro environment by visiting the Market Realist Macro ETF Analysis page.