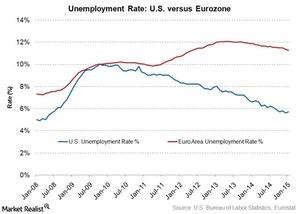 How the US employment situation compares with the Eurozone
By Surbhi Jain

Nov. 20 2020, Updated 4:43 p.m. ET
Unemployment rate is a critical indicator for all economies
The level of unemployment is one of the most critical and watched-for indicators in an economy. In many respects, the level of employment determines the prosperity in a nation. A lower unemployment rate is always desirable, as all countries strive to achieve maximum employment. The employment level of a nation determines the level of business investment and consumer spending, which in turn, drives economic growth.
Article continues below advertisement
US employment situation: Rate down from 10% to 5.5%
We've seen how the improving employment situation in the US has been reflected in the broad-market equity index performance of the S&P 500 (SPY) (VOO), as well as in the gains made by the Consumer Discretionary Select Sector SPDR Fund (XLY) that tracks consumer spending.
The unemployment rate has come down from 10% in October 2009 to 5.5% in February 2015. A better employment situation has led to consumer and business spending, and so has been a major catalyst for the US economic recovery, pulling it out of the 2009 recessionary abyss.
Having said that, a number of multinational companies in the US, such as Accenture (ACN), Xerox Corporation (XRX), and 3M (MMM), also have a strong presence in the Eurozone. For these large firms, and your investments in ETFs that track these firms, the employment situation in the Eurozone makes a difference.
Unemployment rate in the Eurozone is still high at 11.24%
The unemployment rate in the Eurozone was 10.18% in May 2010. The jobless rate was affected by the US recession—which had repercussions everywhere—along with the Eurozone debt crisis that began toward the end of 2009. The unemployment rate for the Eurozone did revive for a while and was down to 9.84% by April 2011. But the respite was short-lived, and the unemployment rate soared again to a historic high of 12.01% by September 2013.
As of January 2015, the unemployment rate remained high at 11.24%. The Eurozone is definitely in an economic quagmire. You can read more about the Eurozone and its economic troubles in our series, Can 60 billion euros a month turn Eurozone indicators positive?
You may also want to read our analysis on the recent bailout extension granted to Greece by the Eurozone in our series, Greece dodges bankruptcy as Eurozone grants bailout extension.
And, for more such analysis, visit Market Realist's Global Equity ETFs page.