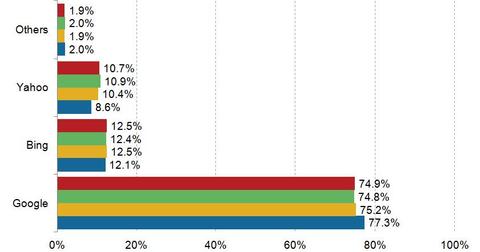 An Update on Yahoo's Partnership with Microsoft's Bing
By Patricia Garner

Apr. 2 2015, Updated 9:05 p.m. ET
An update on Yahoo's partnership with Microsoft's Bing
In July 2009, Yahoo (YHOO) signed a ten-year deal with Microsoft (MSFT) with the expectation that the partnership will allow both firms to team up against the dominant player, Google (GOOG), in the search market. Under the terms of the deal, Microsoft's Bing powers Yahoo search, while Yahoo continues to sell ads on its own sites and other Microsoft sites. According to the deal, Microsoft had to pay Yahoo 88% of search ad revenues generated by Yahoo sites.
Article continues below advertisement
Yahoo entered into this partnership so that the company can focus on its core growth areas and media sites, many of which are number one in their categories. As Yahoo's former CEO Carol Bartz said, "Users will continue to experience search as a vital part of their Yahoo experiences and will enjoy increased innovation thanks to the scale and resources this deal provides. Advertisers will also benefit from scale and enjoy greater ease of use and efficiencies working with a single platform and sales team for premium advertisers. Finally, this deal will help us increase our investments in priority areas in winning audience properties, display advertising capabilities and mobile experiences."
Yahoo's CEO is not happy with Microsoft deal
During the Q4 earnings call, Yahoo's current CEO, Marissa Mayer, expressed her disinterest in continuing this alliance with Microsoft. Mayer said that she is exploring different avenues with Microsoft and is looking for alternatives. The partnership between Yahoo and Microsoft will reach its halfway point later in Q1.
In fact, Mayer hinted at a deal with Apple's (AAPL) Safari. We'll discuss this in more detail in the next part of the series.
Yahoo's search growth halted in February 2015
According to the latest data from StatCounter, an independent website analytics provider, Yahoo's (YHOO) recent growth in US search share came to a halt in February 2015.
StatCounter Global Stats reports that in February, Google took 74.9% of US search referrals followed by Bing at 12.5%, and Yahoo at 10.7%, down marginally from 10.9% in the previous month.
You can gain portfolio exposure to Apple, Microsoft, and Google by considering the PowerShares QQQ Trust Series 1 ETF (QQQ). All these companies together have a 29% weight in QQQ.