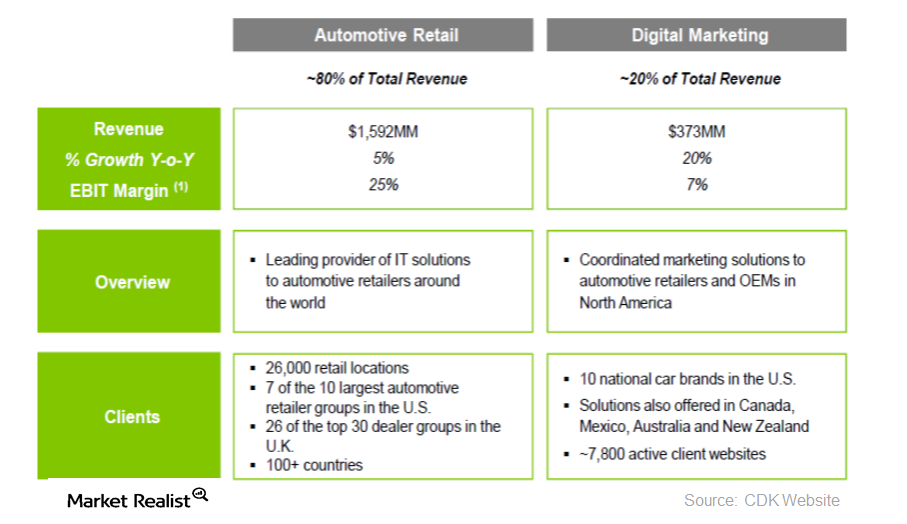 Ascend Capital's Increased Position in CDK Global
By Adam Rogers

Apr. 1 2015, Updated 5:05 p.m. ET
Ascend Capital and CDK Global
Ascend Capital increased its position in CDK Global Inc. (CDK) by adding shares worth over $43 million. It represented 1.85% of the total portfolio in 4Q14—up from 0.15% in the third quarter.
CDK Global has 0.46% exposure to the iShares Core S&P Mid-Cap ETF (IJH). It has 0.07% exposure to the iShares Russell 1000 Growth ETF (IWF). IJH tracks the performance of 400 publicly listed companies in the "growth" sector. IWF tracks the performance of 678 publicly listed companies in the same category.
In addition to CDK Global, Ascend Capital started a new position in technology companies like Juniper Networks (JNPR). Also, it increased its position in Ingram Micro Inc. (IM).
Article continues below advertisement
About CDK Global
CDK Global is one of the largest providers of integrated information technology and digital marketing solutions in the world. It provides its services to clients in the manufacturing sector. The firm generates revenue of nearly $2 billion annually. It provides services to over 26,000 retail client locations in over 100 countries.
2Q15 results and raised outlook for fiscal year 2015
In February 2015, CDK Global declared its 2Q15 results. It reported 7% growth on a YoY (year-over-year) basis with revenue of $521.2 million. The earnings before taxes was $75.2 million. This was a 10% decline compared to 2Q14. The net earnings declined by 19% to $42.5 million. The firm's earnings per diluted share were $0.26 per share.
Article continues below advertisement
CDK Global's revenue from business segments
The details of CDK Global's revenue from its different business segments are:
Automotive Retail in North America – the firm's revenue in this segment grew by 7% for 2Q15 on a YoY basis. The growth was mainly due to operating efficiencies as well as a favorable legal settlement in the same period.
Automotive Retail International – the revenue for this business segment increased by 3% for 2Q15. The pre-tax earnings increased by 20% as well. This was due to an increase in operational efficiencies.
Digital Marketing – compared to 2Q14, the revenue in this business segment improved by a massive 17% in 2Q15. The pre-tax margins also increased due to lower employee benefit costs.
Outlook for fiscal year 2015
Due to unfavorable foreign exchange rates, although CDK Global lowered its growth forecast, the firm raised its earnings, growth, and margin forecasts based on the first two quarters of fiscal year 2015. On an adjusted basis, CDK Global plans to achieve the following figures in fiscal 2015.
Revenue of $1.973 billion—a 6%–7% growth on a YoY basis
Earnings before taxes of $303.7 million—an increase of ~13%–14%
EBITDA (earnings before interest, tax, depreciation, and amortization)—an increase of 100 basis points
EPS (earnings per share)—an 8%–9% growth
Shareholder value
CDK Global announced that its board of directors approved to buy back ~10 million shares of the firm's common stock as a part of its share repurchase program. The deal can be implemented in the open market or in "privately negotiated transactions."
In the next part of this series, we'll discuss Ascend Capital's position in Capital One.