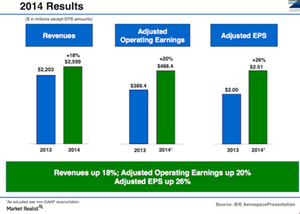 New B/E Aerospace's 2014 results after spin-off
By Diana Key

Updated
Farallon discloses 7% stake in KLX Inc.
Previously in this series, we learned that Farallon Capital disclosed its 7% stake in KLX (KLXI) in its 13G filing. B/E Aerospace (BEAV) spun off its consumable management segment to form KLX. We also discussed the business overview of B/E Aerospace.
On January 29, 2015, BEAV declared its financial results for fourth quarter and full year 2014. Following results don't include results from KLX.
Article continues below advertisement
Full year 2014 results
B/E Aerospace's 2014 revenue increased 18% to $2.6 billion. Adjusted net earnings were up 26.3% to $261.9 million. On a diluted basis, adjusted earnings per share (or EPS) were $2.51. On a generally accepted accounting principles (or GAAP) basis, net earnings were $57.7 million, or $0.55 per share. Bookings were up 21% to $2.7 billion.
Commercial aircraft segment revenue for B/E Aerospace was up 15% to $2.06 billion, and adjusted operating earnings were up 17% to $375.1 million. Adjusted operating margin was 18.2%, up 30 basis points. On a GAAP basis, operating earnings were $356.3 million. Plus, 2014 costs include $60.1 million of costs related to the spin-off, business repositioning, integration, and acquisition.
The board of directors authorized a $0.76 per share annual dividend beginning in 2015, as well as a $400 million share repurchase program.
4Q14 results
B/E Aerospace's revenue increased by 10% year-over-year (YoY) to $638 million, and adjusted net earnings were up 8% to $59.8 million. On a diluted basis, EPS was $0.57. The company's fourth quarter results reflect a higher level of spending on development of a unique new product suite in the business jet segment. On a GAAP basis, net loss was $36.0 million or $0.34 per diluted share. Bookings were up 13% YoY to $665 million. Book-to-bill ratio was approximately 1.04 to 1.
BEAV's commercial aircraft revenue was $480.4 million. Its operating margin was 18.4%, up 80 basis points. Costs for 4Q14 include $6.1 million of business repositioning and integration costs after spin-off.
Outlook for 2015
B/E Aerospace revenues are expected to increase by ~10% for 2015, and the operating margin is expected to be 18%. Adjusted EPS is expected to be up by 20%. Free cash flow conversion ratio is expected to be ~75% of net earnings. The company plans to initiate a $0.76 per share annual dividend in 2015, representing an approximate 25% payout ratio.
For first quarter of 2015, revenues are expected to increase by 8%. EPS is expected to increase by 16% to $0.72. B/E Aerospace's new customers include Boeing (BA), United Technologies (UTX), and Southwest Airlines (LUV).
In the coming parts of this series, we'll explore KLX Inc. in more detail.