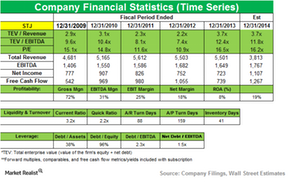 Millennium Management adds new position in St. Jude Medical
By Adam Rogers

Nov. 20 2020, Updated 11:16 a.m. ET
Millennium Management and St. Jude Medical
Millennium Management's new positions in 3Q14 include St. Jude Medical (STJ) and Kimberly-Clark (KMB). The fund sold positions in Forest Laboratories (FRX) and Procter & Gamble (PG). Millennium increased its position in Kinder Morgan (KMI), Actavis plc (ACT), and American Express (AXP). Finally, it decreased its stake in Northeast Utilities (NU) and CVS Caremark (CVS).
Millennium Management initiated a small position in St. Jude Medical (STJ) that accounts for 0.21% of the hedge fund's portfolio.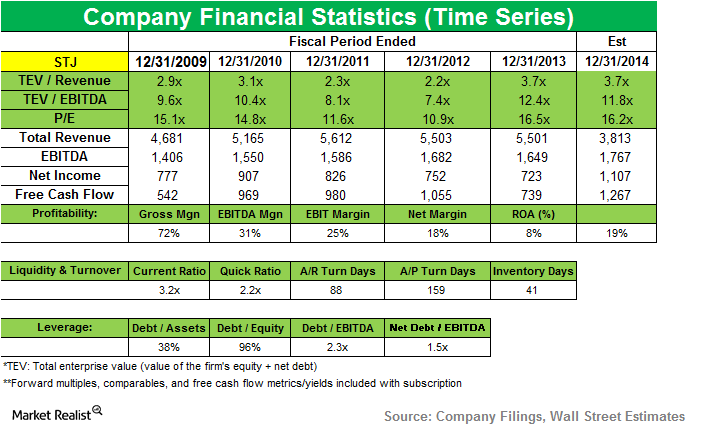 Article continues below advertisement
Overview of St. Jude Medical
St. Jude Medical, Inc. is a global medical device company founded in 1976 and headquartered in Minnesota. The company has more than 20 principal operations and manufacturing facilities worldwide, with products sold in more than 100 countries. Its major markets include United States, Europe, Latin America, and Asia-Pacific.
St. Jude Medical develops, manufactures, and distributes cardiovascular medical devices for global cardiac rhythm management, cardiovascular, atrial fibrillation therapy areas, and neuro-stimulation medical devices for the management of chronic pain.
St. Jude declares 3Q14 results
In October 2014, St. Jude Medical, or STJ, declared its 3Q14 results. The company reported net sales of $1.372 billion, an increase of approximately 3% over net sales of $1.338 billion in 3Q13. Reported net earnings 3Q14 were $238 million, or $0.82 per share, compared with 3Q13 reported net earnings of $262 million, or $0.90 per share.
Management stated that sales growth accelerated in the US due to the strength of its innovation and new products such as the CardioMEMS heart failure monitoring system.
In 4Q14, STJ expects revenues to be in the range of $1.385 billion to $1.465 billion.
Article continues below advertisement
FDA clearance
In September 2014, STJ received clearance from the FDA (U.S. Food and Drug Administration) for its percutaneous coronary intervention optimization system, OPTISTM.
According to STJ management, "It is the first system across the globe  to offer optical coherence tomography (OCT) and angiography co-registration, which supports procedural decisions by providing high-resolution, 3-D OCT views of coronary anatomy while mapping the exact location of physician's view via angiogram."
St. Jude to trim costs and increase operational efficiency
The management at STJ stated that the firm is focused on streamlining the organization to improve productivity, reduce costs, and leverage its scale to drive additional growth.
The firm states that it's increasingly important to improve efficiency as it expects competitive pressures in the industry. Global economic conditions, cost-containment pressure on healthcare systems, and the implementation of US healthcare reform legislation are also placing downward pressure on prices for its products. As well, these factors impact reimbursement for products and potentially reduce medical procedure volumes.
The next article in this series will explore Millennium Management's new position in Kimberly-Clark (KMB).