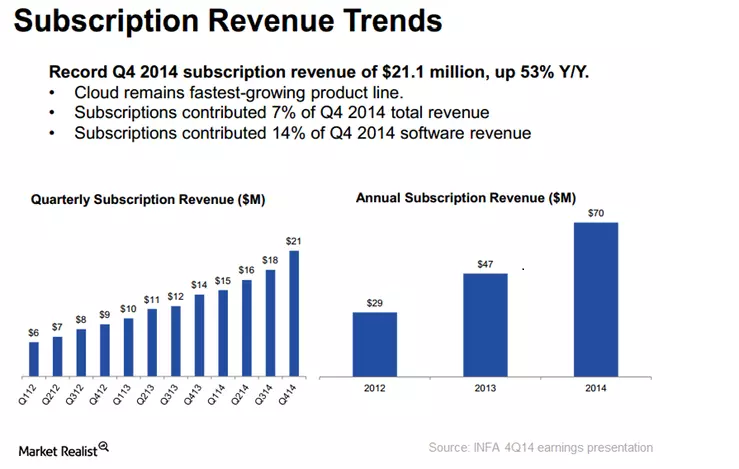 Elliott Management adds new position in Informatica
Elliott Management and Informatica
Elliott Management has started a new position in Informatica (INFA). The investment represents 0.81% of the overall hedge fund portfolio. The fund bought shares worth $77 million according to its latest 13F filings for 4Q14.
Informatica makes up 0.28% of the iShares S&P Midcap 400 Index Fund (IJH). The ETF tracks the overall performance of 400 publicly traded companies in the growth sector.
Article continues below advertisement
Company overview
Based in Redwood City, California, Informatica provides data integration software and services. Its targeted market sectors are as follows:
automotive
energy and utilities
entertainment and media
financial services
healthcare
high technology
insurance
manufacturing
public enterprise
retail
services
telecommunications
travel and transportation
Financial services are its largest vertical industry sector.
Informatica posts strong 4Q14 results, beats estimates
Informatica said its strong 4Q results were proof "of an improving sales productivity." Total revenue for 4Q grew 10% to $303.74 million, up from $276.04 million in the same quarter last year. Profits grew 9% to $43.6 million, up from $39.9 million in the fourth quarter of 2013. Non-GAAP (generally accepted accounting principles) net income per diluted share, excluding special items, was $0.56, up 14% year-over-year. Both earnings and EPS (earnings per share) beat analyst estimates.
Article continues below advertisement
Software revenue driven by growth in subscription revenues
Informatica's revenues are categorized as software revenues and subscription revenues. Under software, it generates revenue from sales of software licenses and subscription-based licenses. It derives service revenues from maintenance contracts, consulting services, and education services for customers that license its products either directly or indirectly.
Software revenues were $150.2 million, an increase of 12% over $134.6 million in the fourth quarter of 2013. Within software revenues, license revenues were $129.2 million, up 7% year-over-year. Subscription revenues were $21.1 million, up 53% year-over-year.
Service revenues grew 9% year-over-year to $153 million. Maintenance revenues were up 9%, and consulting and education services were up 8%. Informatica says its total revenues were negatively impacted by currency fluctuations.
Informatica peer performance
As you can see in the chart above, Informatica's performance has been almost on par with Tableau Software (DATA) and Qlik Technologies (QLIK). Data warehousing software maker Teradata (TDC) has outperformed Informatica. Meanwhile, data and information management company CommVault Systems (CVLT) has experienced a downtrend in recent months.