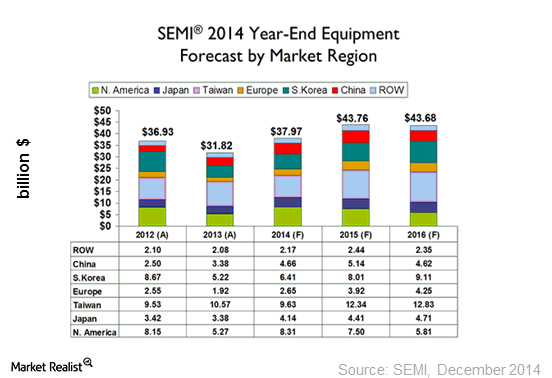 Teradyne and the future of the semiconductor industry
Teradyne and the semiconductor test segment
In the previous parts, we got an overview of Teradyne's (TER) operations and financial performance. Now let's turn our attention to the growth prospects of the industry in which Teradyne operates.
Teradyne generates more than two-thirds of its revenue from the semiconductor test segment. In order to assess the future potential of this business, let's look at the semiconductor equipment manufacturing industry. The growth and risk characteristics of this particular industry align with Teradyne.
The semiconductor equipment manufacturing industry includes companies that are into wafer processing equipment, semiconductor test equipment, assembly and packaging equipment, and front-end fab facilities.
The industry is known to be highly cyclical. It tends to perform well during periods leading up to an economic boom. This is because businesses and consumers have higher discretionary income and struggle during periods of market contraction as corporates and consumers cut down on their spending.
Article continues below advertisement
Mobility products to drive demand for semiconductor test market
SEMI (Semiconductor Equipment and Materials International) is a trade body for semiconductor equipment use by chipmakers. According to SEMI, global sales of new semiconductor manufacturing equipment will increase 19.3% to $38 billion in 2014.
The growth is set to be fostered by a 17.8% year-over-year growth to $29.9 billion in wafer processing equipment, which is the largest product segment. The forecast also suggests a 26.5% growth in global semiconductor test equipment sales. This is Teradyne's primary area of operations. It's expected to reach $3.4 billion in 2014, driven by strong mobility demand. As the above chart shows, Taiwan, South Korea, and China are likely to be the key growth markets.
Growth expected in 2015
Strong positive growth is expected to continue into 2015, resulting in a 15.2% market expansion before sales flatten out in 2016.
These broad market trends bode well in the long term for Teradyne (TER) and competitors such as Advantest Corporation (ATE) and Xcerra Corporation (XCRA). Also set to benefit from this are companies that manufacture wafer processing equipment. These companies include Lam Research (LRCX), ASML Holding (ASML), Applied Materials (AMAT), and fabrication facilities such as KLA-Tencor (KLAC).
An investor seeking to gain exposure to these companies can consider pooled investment vehicles such as the VanEck Vectors Semiconductor ETF (SMH), the iShares PHLX Semiconductor ETF (SOXX), and the SPDR S&P Semiconductor ETF (XSD).