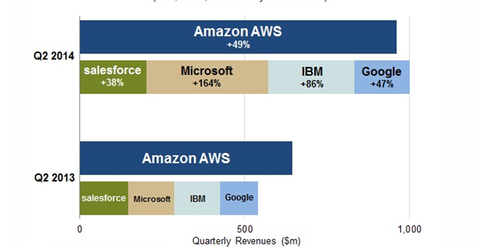 Why Salesforce is fierce competition for Oracle's offerings
By Anne Shields

Updated
Increased competition in the cloud space
As we have seen in the earlier part of the series, Salesforce (CRM), Google (GOOG), IBM (IBM), and Microsoft (MSFT) are the fastest growing players in the cloud space. However, in this rapidly growing sector, Salesforce has proved to be the fastest growing company among its peers.
The primary reason for Salesforce's growth is that it only deals in CRM, which gives it the advantage of a focused approach. However, this approach also exposes Salesforce to risk inherent from operating in a single segment. On the other hand, Oracle (ORCL), IBM, and Microsoft operate in a variety of segments.
Article continues below advertisement
Salesforce ended its relationship with Oracle to reduce dependency
Earlier, Salesforce was one of Oracle's major clients that depended on Oracle for basic operational services. Aside from being a good addition to revenues, it gave Oracle an edge to have a leader in the CRM industry as a customer that depended on its resources.
However, later Salesforce joined hands with Microsoft to avail the same services. The primary reason behind this decision was to eliminate Oracle's competitive positioning as well as to end its dependency on Oracle. Oracle's CEO cited Salesforce as a threat multiple times in the company's earnings releases.
Given the brewing competition in the industry, why is Salesforce not threatened by Microsoft? The reason is that although Microsoft operates in the cloud space, it is still only a small player in the CRM segment.