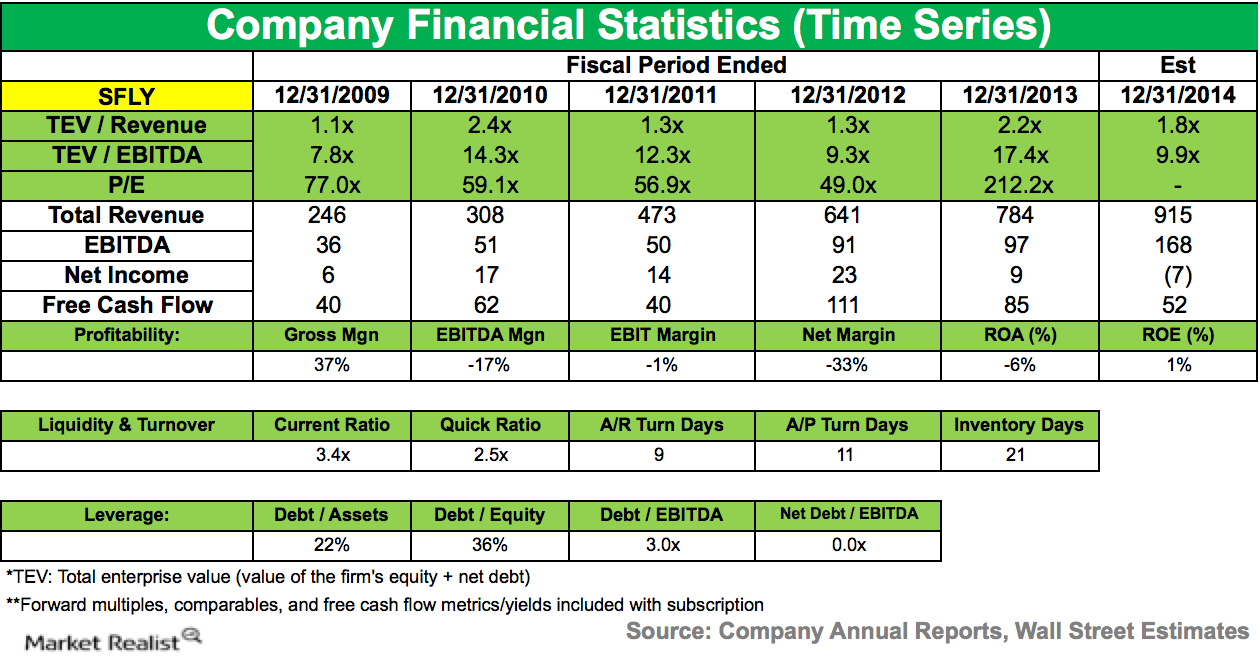 Point72 Asset Management lowers its position in Shutterfly
Point72 and Shutterfly
Point72 Asset Management reduced its position in Shutterfly, Inc. (SFLY). A 13G filing in January noted that the fund owns 2,424,073 shares. This is down from the 5,029,200 shares reported in the 3Q14 portfolio. The filing said the fund owns a passive stake of 6.3% in the company.
Article continues below advertisement
About Shutterfly
Shutterfly is a manufacturer and digital retailer of high-quality personalized products and services offered through a family of lifestyle brands. The company operates seven premium lifestyle brands: Shutterfly, Tiny Prints, Wedding Paper Divas, Treat, ThisLife, MyPublisher, and BorrowLenses. In 3Q14, the Shutterfly brand contributed 70% to total revenue.
Shutterfly generates the majority of its revenues by producing and selling professionally bound photo books, greeting and stationery cards, personalized calendars, other photo-based merchandise, and high-quality prints in different sizes.
Consumer revenues come from the sale of photo-based products, photo prints, the related shipping revenues, as well as rental revenue from the BorrowLenses brand. This also includes revenues from advertising and sponsorship activities. Enterprise revenues come from the printing and shipping of direct marketing and other variable-data print products and formats.
During 2014, Shutterfly received takeover bids by several outside parties. But the board of directors unanimously concluded, "It is in the best interest of all stakeholders to remain independent at this time."
Article continues below advertisement
Shutterfly acquires GrooveBook
In November 2014, Shutterfly announced acquisition of GrooveBook for $14.5 million. GrooveBook is a mobile photo book app subscription service. GrooveBook is an app and subscription service that prints up to 100 mobile phone photos and mails them to customers every month for $2.99. GrooveBook was featured on the television program Shark Tank.
3Q14 results
The company's net revenues increased 16% year-over-year (or YoY) to $142.0 million. Shutterfly has achieved 55 consecutive quarters of YoY net revenue growth. According to the company, growth was driven by "healthy customer, order and average order value (or AOV) growth from our consumer brands and strong growth from our Enterprise business."
During the quarter, the total number of customers was 2.5 million, up 6% YoY. Total orders were 4.2 million, up 7% YoY. AOV was $30.63, up 5% YoY. This growth was a result of "integrated channel campaigns" and "additional upsell and cross-sell components," according to the company.
Shutterfly recorded generally accepted accounting principles (or GAAP) net loss of $46.2 million or $1.20 per share, which was in line with the guidance.
Article continues below advertisement
Fourth quarter and 2014 guidance
Due to the holiday season, the company expects 4Q14 net revenues to be in the range of $466.7 million to $481.7 million with YoY increase of 13.6% to 17.3%. GAAP net income per share is expected in the range of $2.35 to $2.60.
For the full year of 2014, the company expects net revenues to be between $905.0 million and $920.0 million with 15.5% to 17.4% YoY increase. GAAP net loss per share is expected to be in the range of $0.36 to $0.09.
Point72's 13G positions
Point72 Asset Management initiated positions in Jones Energy Inc. (JONE), MEI Pharma Inc. (MEIP), and Catalyst Pharmaceutical Partners, Inc. (CPRX).
The fund increased its positions in Silicon Motion Technology Corp. (SIMO), RCS Capital Corp (RCAP), Kindred Healthcare, Inc. (KND), Crocs, Inc. (CROX), LogMeIn Inc. (LOGM), Kraton Performance Polymers Inc. (KRA), and Walter Investment Management Corp (WAC).
The fund reduced its position in Clearwater Paper Corp (CLW) and Shutterfly, Inc. (SFLY).