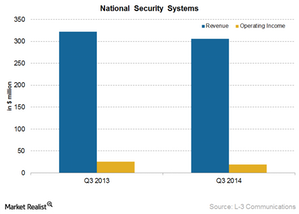 A look at LLL's National Security Solutions segment
By Ally Schmidt

Updated
National Security Solutions
The National Security Solutions business segment of L-3 Communications Holdings Inc. (LLL) designs global networks, cloud security architectures, and complex computing solutions. The segment supports US military and government customers with a full spectrum of IT (information technology) services:
cyber operations,
enterprise and mission IT
intelligence operations support
integrated security
Big Data solutions
National Security Solutions defends networks and equipment against increasingly sophisticated attacks. The segment applies forensics to deter cyberspace breaches using its threat and vulnerability assessment, enterprise command and control, and surveillance.
This article will look at the performance of LLL's National Security Solutions segment.
Article continues below advertisement
Performance in 3Q14
During the third quarter of 2014, National Security Solutions generated net sales of $306 million, down 5.3% year-over-year from $323 million in the same quarter last year. The decrease reflects lower sales in the Defense Solutions sector due to lower demand. However, the segment continues to win contracts and is gaining market share, stabilizing margins, and making a targeted expansion into global and commercial markets.
Year-to-date performance
National Security Solutions' net sales for the 2014 year-to-date period decreased by 4% or $40 million as compared to the 2013 year-to-date period. Sales declined by $31 million for the Federal Solutions sector, primarily due to the completion of a contract for the National Oceanic and Atmospheric Administration. Intelligence Solutions sector sales fell by $25 million, mostly because of US government sequestration cuts. Sales decreased by $13 million for the Defense Solutions sector, mainly due to lower demand and contracts nearing their completion.
However, an IT services contract for the US Army Reserve partially offset the Defense Solutions loss. Also, the Data Tactics acquisition increased National Security Solutions sales by $29 million.
As can be expected, sequestration will negatively impact all defense contractors in the US, including the Boeing Company (BA), General Dynamics Corporation (GD), and Raytheon Company (RTN). Some of these companies are part of the iShares Dow Jones US Industrial ETF (IYJ).
The segment's operating income for the same period decreased by 15% or $10 million as compared to the 2013 year-to-date period. Operating margin decreased to 5.9%. This was mainly due to lower margins on new business resulting from competitive pricing pressure and less-favorable contract performance adjustments.
In the next article, we will look at L-3's merger and acquisition history.