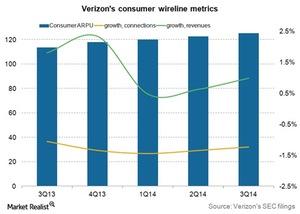 Analyzing wireline telecom's key indicators
By Ray Sheffer

Jan. 20 2015, Updated 2:13 p.m. ET
Key indicators
In wireline, there are some key indicators. They can help you understand a company's revenue model. The two revenue streams—from consumers and businesses—can be broken down into different operating metrics. Wireline telecom investors should watch these indicators to gauge companies' performance in the segment.
Article continues below advertisement
Consumer wireline
In consumer wireline, revenues are defined by the average revenue per user, or ARPU, and the number of connections. On a stand-alone basis, ARPU shows the unit price that a telecom company is selling its services to customers. Connections give us the volume of services sold. However, these indicators tell us much more about the company.
A telecom company's ARPU indicates the contribution of different services the company is selling to its customers. It tells us whether a business is predominantly selling a low-cost service—like legacy voice—or higher priced bundled triple play products. If ARPUs increase over an extended period, it may also show increased adoption of new higher priced broadband or bundled triple play products.
In the above graph, Verizon's (VZ) consumer ARPU increased by ~10% year-over-year, or YoY. It was led by increased contribution from subscribers of higher priced FiOS products in 3Q14.
Previously in this series, we discussed that residential customers are moving away from wireline to cable. They're moving to wireless-only homes. The trend significantly impacted all wireline players—including AT&T (T), CenturyLink (CTL), Frontier Communications (FTR), and Windstream Holdings (WIN). In such situations, investors should also follow the number of wireline connections to know whether the trend changed.
Business wireline
In the enterprise segment, investors should look at the revenue contribution from strategic services. These services give stable revenue streams and profitability. Also, they have long contracts and better margins than the legacy services that telecom companies offered to enterprises.
Investors should watch for significant changes in economic conditions. They should also watch expectations. During extended periods of economic uncertainty, enterprises may decrease their ICT (information and communication technology) spending. This would likely be negative for telecom companies.