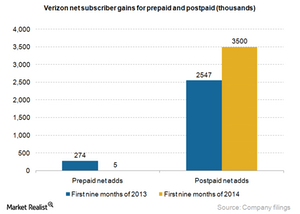 Why Verizon believes prepaid subscribers are moving to postpaid
By Puneet Sikka

Dec. 15 2014, Updated 12:00 p.m. ET
Verizon believes prepaid subscribers are moving to postpaid
According to a Market Realist report, Why prepaid mobile plans are gaining popularity in the US, the prepaid unit share of smartphone sales in the US increased in 1Q13. In the same series, we also discussed how Google (GOOG)(GOOGL) and Apple (AAPL) look to tap prepaid smartphone plan growth. However, Verizon's (VZ) management believes that the trend started to reverse. The company believes that prepaid subscribers are moving to postpaid subscription plans.
During the 3Q14 earnings call, Verizon mentioned that entry-level postpaid plans are comparable to prepaid plans—in terms of prices. Also, postpaid plans provide cheaper options for subscribers with family plans—for example, Verizon's MORE Everything plan.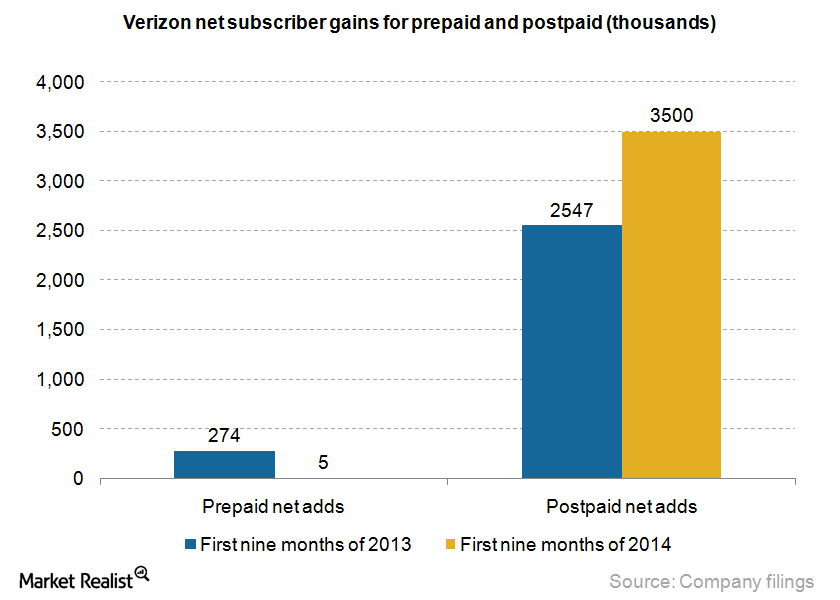 Article continues below advertisement
Other companies' prepaid trends 
As the above chart shows, Verizon only added  5,000 net prepaid subscribers in the first nine months of 2014—compared to 274,000 prepaid subscribers in the first nine months of 2013. In contrast, Verizon increased its net postpaid adds from 2.55 million to 3.5 million during the same period. This clearly shows the trend of prepaid subscribers moving to postpaid.
However, we can't say that the same trend holds true for other telecom companies—like Sprint (S) and T-Mobile (TMUS). Sprint is an interesting story. It continued to lose net postpaid subscribers. However, it gained 35,000 net prepaid subscribers in the last quarter. Market Realist discussed this in Why Sprint is faring much better in the prepaid market. We also discussed T-Mobile and AT&T's (T) prepaid market trends.