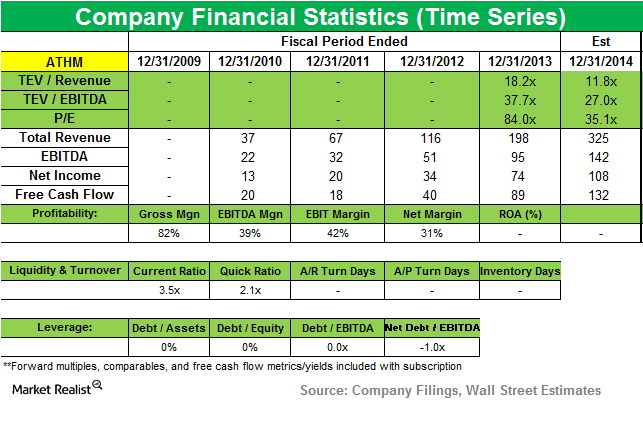 Tiger Global adds to position in Autohome
By Samantha Nielson

Dec. 12 2014, Published 5:46 p.m. ET
Tiger Global boosts stake in Autohome
Tiger Global raised its position in Autohome Inc (ATHM) that accounted for 3.75% of the fund's third quarter portfolio. The fund owned 290,873 shares in Autohome at the end of the second quarter, which was raised to 6,735,000 shares at the end of the third quarter.
Article continues below advertisement
Autohome overview
Autohome Inc. is one of the leading online destinations for automobile consumers in China. Through its two websites, the company provides comprehensive, independent, and interactive content to automobile buyers and owners.
In 3Q14, Autohome's ranking remained first among China's automotive websites and automotive channels of Internet portals in terms of average daily unique visitors, average daily page views and average daily time spent. iResearch, a third-party market research firm, released these rankings.
Autohome competes with Bitauto Holdings, whose shares were also acquired by Tiger Global during the third quarter of 2014.
Revenue grows 64.6%, operating expenses rise
Autohome's 3Q14 net revenues increased 64.6% year-over-year to $88.8 million. Revenues from automaker advertising services increased 42.9% year-over-year, while revenues from the dealer yellow page business, which includes dealer advertising and dealer subscriptions services, increased 92.8% year-over-year. Autohome said it provided dealer subscription services to 14,614 dealer subscribers in 3Q14, representing a year-over-year increase of 64.5%.
Basic and diluted earnings per share and per American Depositary Share, or ADS, were $0.26 and $0.25, respectively.
However, operating expenses grew 150.2% to $40.2 million. Autohome noted that the growth was "due to increases in sales and marketing expenses, product development expenses, and general and administrative expenses, as the company has been reinvesting for future growth opportunities."
Article continues below advertisement
Autohome prices follow on public offering
Some of the company's recent initiatives include new products for dealer customers and automakers. Its new features are intended to enhance user engagement and participation in the content generation and delivery process.
Autohome recently announced pricing of its registered follow-on public offering of American Depositary Share, or ADS. It will issue and sell 1.65 million of ADSs. Some of its existing shareholders, including Telstra Holdings, will sell an aggregate of 6.85 million ADSs. The gross proceeds for the company will be approximately $70.1 million.
Tiger Global's top holdings traded in 3Q14
The fund added new positions in Bitauto Holdings Ltd. (BITA), Mobileye NV (MBLY), Tableau Software Inc. (DATA), and GoPro, Inc. (GPRO). It sold positions in Dollar General Corp (DG), Comcast Corp (CMCSA), Fidelity National Information Services, Inc. (FIS), and Qihoo 360 Technology Co (QIHU). Top position increases include Hertz Global Holdings Inc (HTZ), MasterCard Inc (MA), and Autohome (ATHM).