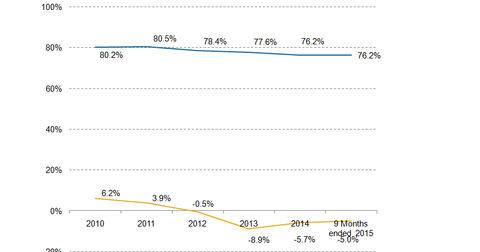 Slowdown in Salesforce's subscription growth is a concern
By Anne Shields

Dec. 8 2014, Updated 9:00 p.m. ET
Subscription growth slows
Salesforce.com (CRM) gained significant standing in the CRM (or customer relationship management) space due to how quickly the company introduced a large number of new customers to its platform. However, the company's subscriptions are no longer seeing any decent growth.
This slowdown is happening despite the fact that Salesforce.com's subscriber acquisition spending is outpacing that of its peers. According to Jefferies analyst John DiFucci, Salesforce.com spends about $1.94 for each dollar of new business when the industry average is about $0.70.

The company's annualized subscription billings growth of 12% has been declining consistently. Salesforce.com saw 68% subscription growth four years ago.
Current revenue growth cannot be considered a source of optimism. Subscription-based companies like Amazon (AMZN), Netflix (NFLX), and LinkedIn (LNKD) recognize revenues beforehand, so recorded revenues are much more of a backward-looking measure than a forward-looking one.
Bookings and deferred sales commissions grew 16% and 11%, respectively, on a year-over-year basis. Salesforce.com's margins are yet to turn positive, as the graph above shows.
Article continues below advertisement
Revenues experience decline on geographical front
The Americas region, which accounts for the largest contribution towards overall revenues, reported revenues of $995 million. In constant currency terms, revenues declined 41% in 3Q14 and 29% in 3Q15.
European revenues declined 39% in 3Q14 and 34% in 3Q15 due to a challenging macroeconomic environment in the eurozone region.
In 3Q15, Salesforce.com billings missed expectations on a US dollar level. However, in constant currency terms, billings grew by 27% as against analysts' consensus of 26.3%.
Positive news about Salesforce.com will benefit the Technology Select Sector SPDR Fund ETF (XLK), which has significant exposure to the company.