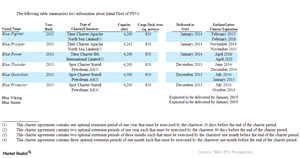 Omega Advisors adds to position in Nordic American Offshore
By Samantha Nielson

Nov. 20 2020, Updated 1:19 p.m. ET
Omega Advisors and Nordic American Offshore
Omega Advisors' 13F filing reveals that it added a position in Nordic American Offshore (NAO) that accounts for 1.33% of the fund's third quarter of 2014, or 3Q14, portfolio.
We reported back in June that Leon Cooperman's Omega Advisors opened a new position in Nordic American Offshore, according to a new 13D filing with the U.S. Securities and Exchange Commission, or SEC. The filing showed that the fund holds 4,916,700 million shares, or a 21.8% stake in the company.

Article continues below advertisement
Overview of Nordic American Offshore
Nordic American Offshore (NAO) is an international offshore supply vessel company that was incorporated in Bermuda for the purpose of acquiring and operating platform supply vessels, or PSVs, with an initial operational focus in the North Sea. PSVs are used for transporting supplies and equipment to and from offshore installations such as drilling rigs.
NAO, which was spun off from Nordic American Tanker (NAT) in November last year, started trading on the New York Stock Exchange in June. NAO raised net proceeds of around $100 million in its IPO (initial public offering). NAT is an international tanker company engaged in seaborne transportation of crude-oil products in international shipping markets. A release from NAT said that Nordic American Offshore was established with a $65 million investment in November 2013.
NAO said the demand for PSVs and anchor-handling tug supply vessels is driven by exploration and production activity in the offshore oil and gas sector. It has ten high-quality PSVs, six in operation and four being built at Norwegian based shipyards. They are built in 2012 and onward. Two of the new builds will be delivered in January 2015, and the other two are expected to be delivered during the third quarter of 2015.
Article continues below advertisement
NAT raises its stake in NAO
NAT recently said it had acquired further shares in Nordic American Offshore (NAO). It added that "following the weaker stock market environment in the oil sector, we have now increased the NAT ownership in NAO from 18.0% to 19.2%."
Third-quarter earnings per share declared in October were $0.12, compared with $0.23 for 2Q14. Net Income was $2.8 million in 3Q14, compared with $4.1 million in the previous quarter. NAO said in its earnings release that it "believes the market outlook for our PSVs is positive, and that there was a seasonal weakening in the spot market." It declared a dividend of $0.45 per share for 3Q14.
NAO believes it is not directly impacted by oil price declines
On the declining oil prices, NAO said in a recent letter that it is "not directly exposed to the price of oil to a significant extent." It added, "In our main market, the North Sea, existing production accounts for about 80% or so of the work handled by our type of vessel. Existing production in the North Sea is by and large unaffected by movements in the oil price." Also, "even if rates remain low well into next year, we still expect to be able to pay a dividend."
Omega's 3Q14 positions
The fund added new positions in AerCap Holdings N.V. (AER), Nordic American Offshore (NAO), and Melco Crown Entertainment (MPEL). It exited its positions in Qualcomm (QCOM), Ocwen Financial Corp. (OCN), Freeport-McMoRan (FCX), and Boston Scientific Corp. (BSX). Notable position increases during the third quarter were QEP Resources (QEP) and United Continental Holdings (UAL).
The next part of this series will cover Omega's top new position in Melco Crown Entertainment.