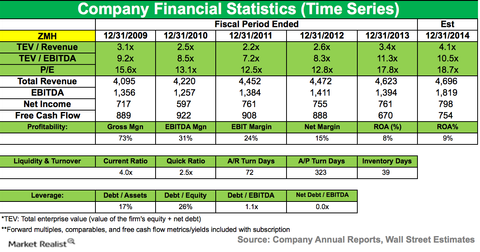 Eminence Capital initiates position in Zimmer Holdings Inc.
By Diana Key

Updated
Eminence Capital starts position in Zimmer Holdings Inc.
Eminence Capital started a position in Zimmer Holdings Inc. (ZMH) during 3Q14. The position accounts for 1.09% of the fund's 3Q14 portfolio.
Article continues below advertisement
About Zimmer Holdings
ZMH is a leading company in musculoskeletal healthcare. It designs and creates innovative and personalized joint replacement technologies. It provides effective solutions to support orthopaedic surgeons and clinicians to restore mobility and treat arthritis and traumatic injuries.
ZMH's deal with Biomet
In April, ZMH agreed to acquire Biomet, Inc. in a cash and stock transaction for $13.35 billion, including debt. Both companies' boards of directors approved the transaction.
ZMH would rename itself Zimmer Biomet after the deal is complete. Zimmer Biomet will be positioned as a leader in the $45 billion musculoskeletal industry. It's expected to be double-digit accretive to ZMH's adjusted diluted earnings per share, or EPS, in the first year. Cash flows from operations are expected to increase by 1.5x ZMH's stand-alone estimates.
Article continues below advertisement
The EC (European Commission) said the transaction may "substantially lessen competition in the markets for hip, knee, elbow and shoulder implants." ZMH proposed a remedy package to the EC. It agreed to divest one unicompartmental knee brand and one elbow brand in the EEA (European Economic Area). It will also divest one total knee brand in two EEA countries.  The EC will market test the proposed remedy package. The EC "stopped the clock" on its review of the proposed merger.
The transaction is expected to close in 1Q15.
ZMH acquired ETEX Holdings
In October, ZMH acquired ETEX Holdings. It's based in Massachusetts. ETEX offers bone substitute material products. ETEX's Dosuk Lee's vision mimics the chemical and structural features of human bone and promotes natural bone regeneration. The acquisition will strengthen ZMH's growing biologics portfolio of early intervention and joint preservation solutions.
Article continues below advertisement
Less-than-expected earnings and revenue
ZMH reported revenue of $1.11 billion. This was an increase of 2.9% reported and 3.1% constant currency—compared to 3Q13. Diluted EPS for the quarter was $0.96 reported and $1.35 adjusted. This was an increase of 8% adjusted—compared to 3Q13. Net earnings for the third quarter were $165.5 million on a reported basis and $232.6 million on an adjusted basis. This was an increase of 7.9% adjusted—compared to the same period last year. ZMH faced pressure in the domestic market for reconstructive hip and knee products as people delayed surgeries.
During the quarter, ZMH paid $37.1 million in dividends. It declared a third quarter dividend of $0.22 per share. This was an increase of 10%—compare to the same period last year.
Eminence Capital's other 3Q14 positions
During 3Q14, Eminence Capital also initiated new positions in GNC Holdings (GNC), Apple (AAPL), McDonald's (MCD), Cognizant Technology Solutions (CTSH). It raised positions in TIBCO Software Inc. (TIBX) and CBS Outdoor Americas Inc. (CBSO). It sold its position in Ralph Lauren (RL). It decreased positions in National Oilwell Varco (NOV), Dollar General (DG), Cadence Design Systems, Inc. (CDNS), Kar Auction Services, Inc. (KAR), and VCA Antech, Inc. (WOOF).
The next part of this series will explore Eminence Capital's position change in TIBX.