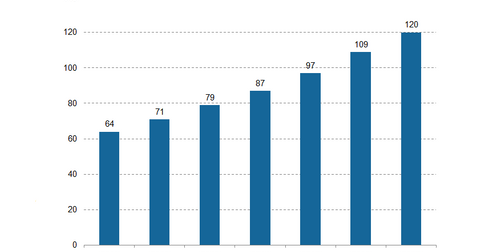 Cyber security presents an opportunity for Symantec
By Anne Shields

Updated
Cyber security is in great demand due to increased mobile and cloud adoption
As more and more data are transmitted and stored through mobile devices and cloud computing, there's a growing need for security to combat advanced cyber attacks and data breaches. Symantec Corporation (SYMC) has thus identified key areas the company is prioritizing for funding and growth. These areas include backup appliances and security businesses such as mobile, advanced threat protection (or ATP), managed security services, and data loss prevention (or DLP). Cyber security drew a lot of attention and funds from technology behemoths like Hewlett-Packard (HPQ) and Cisco Systems (CSCO). New players such as FireEye (FEYE), Palo Alto Networks (PANW), Skyhigh Networks, Lookout, and OpenDNS are also trying to capture this space.
The PowerShares QQQ Trust ETF (QQQ) is likely to benefit when Symantec posts positive results, as it has significant exposure toward it.
Article continues below advertisement

According to analysts from Gartner, mobile security, big data, and advanced targeted attacks are the three trends that will shape the security market moving forward. Gartner estimates that the worldwide security technology and services market is expected to grow to more than $86 billion in 2016 as companies continue to expand the technologies they use to improve their overall security. As the above chart shows, according to MarketsandMarkets, the cyber security market is expected to grow at a compounded annual growth rate (or CAGR) of 11.3% to reach $120 billion during 2011–2017.
Increased focus and allocation of R&D toward mobile space
Increased Internet penetration and mobile usage has urged Symantec to shift its focus to the mobile business. Through its Nukona acquisition, Symantec launched the latest version of Mobile App Center for mobile devices and mobile application management. Symantec has also expanded its Mobile Partner Ecosystem, which includes approximately 60 partners and close to 125 applications. As mentioned in the earlier part of this series, resulting cost savings from layoffs are expected to be directed toward R&D (research and development) to expand the company's presence in mobile space and other identified key growth areas.