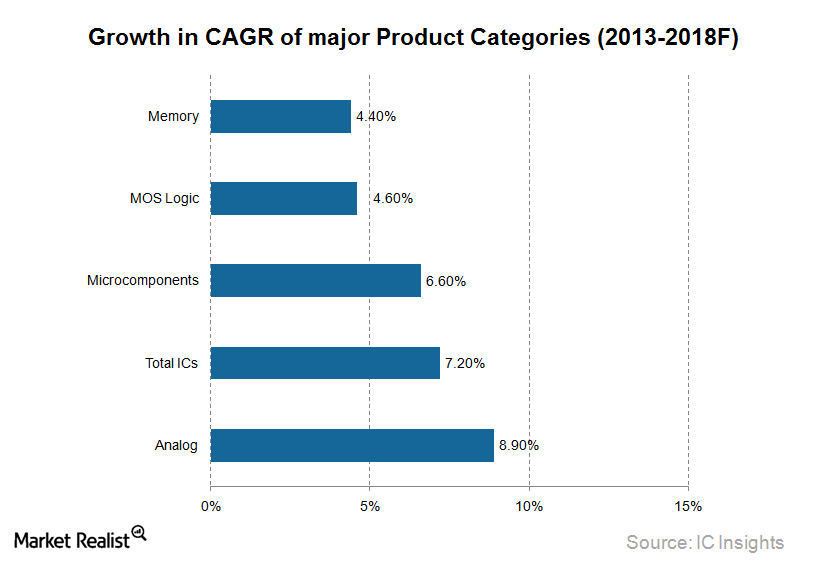 The semiconductor market: Some of the challenges explained
Huge dependence on chip market
According to Texas Instruments Incorporated (TXN), the worldwide analog semiconductor market recorded $40 billion in revenues in 2013. Texas Instruments' analog products division recorded $7.2 billion in revenues, which means that it commands 18% of the market. The company's restructuring efforts and strategies seems to have worked. Its market share in this space was only 13% in 2009.
As the chart below shows, growth in the analog segment is expected to surpass growth in all other major product categories. In fiscal 2013, this segment contributed ~61% and ~70% to the company's overall revenues and operating profits, respectively. This means the company's success has become highly dependent on the demand, acceptance and success of its analog segment. If it were to suddenly fail, the results would be highly detrimental for Texas Instruments' growth.
Article continues below advertisement
Analog chip market shows minimal growth
As the above chart shows, annual analog integrated circuit, or IC, unit shipments are expected to grow at a compound annual growth rate of 8.9% between 2013 and 2018. According to market researcher IC Insights, the analog market earned $42 billion revenues in 2013. By 2017, total analog revenue is expected to reach $49.5 billion.
On a standalone basis, these figures look fine. However, from an annualized growth perspective, it's clear there's not much growth expected in this market.
Semiconductor industry is cyclical
The semiconductor market is characterized by periods of tight supply brought about by increased demand, called "upturns," followed by periods of surplus inventory caused by declining demand, called "downturns." In other words, it's a highly cyclical business.
As a result, during an upturn, it's difficult for a company to spend enough on R&D and production costs. And during downturns, it's tough to maintain production facilities.
According to consulting firm AlixPartners' report, "2014 Global Semiconductor Industry Outlook," the top five players in the industry—Intel Corporation (INTC), Qualcomm, Inc. (QCOM), Taiwan Semiconductor Manufacturing Company, Ltd. (TSM), Texas Instruments Incorporated, and SK Hynix Semiconductor (HXSCF)—produced only ~30% of the global semiconductor industry's revenue and approximately 52%, or $50 billion, of the industry's earnings before interest, taxes, depreciation, and amortization (or EBITDA) in the 12-month period ending in 3Q 2013. Since 2010, the global semiconductor industry has earned low revenues and EBITDA margins owing to soft demand in key geographies, intense competition, pricing pressure, and short and costly product life cycles