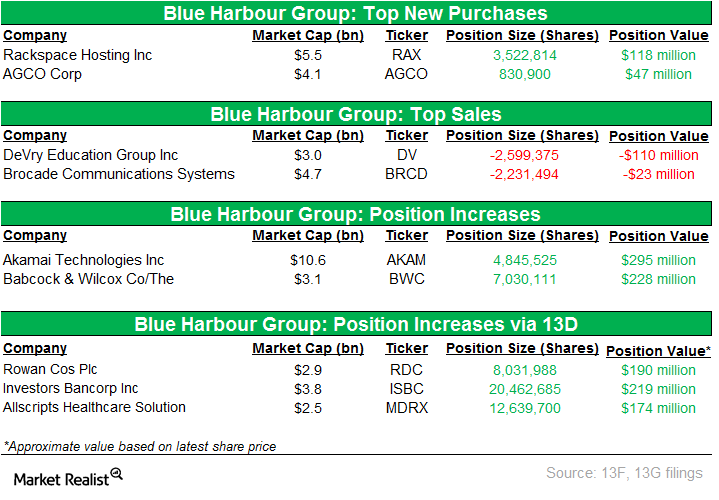 Must-know positions traded by Blue Harbour Group
By Samantha Nielson

Nov. 26 2019, Updated 7:16 p.m. ET
Blue Harbour Group holdings
Activist investor Clifton S. Robbins's Blue Harbour Group was founded in 2004. It manages capital on behalf of pension funds, endowments, and other institutional investors. The fund's U.S. long portfolio for the second quarter that ended in June rose to $2.58 billion from $1.84 billion at the end of 1Q14. In this series, we'll review some of the top new positions traded by the fund during the second quarter. We'll also look at some of the positions taken by the fund since June, which were disclosed via its 13D filings.
Blue Harbour's 2Q14 positions
Article continues below advertisement
At the end of the second quarter in June, the fund added new positions in Rackspace Hosting, Inc. (RAX) and AGCO Corporation (AGCO). It also raised positions in Akamai Technologies, Inc. (AKAM) and Babcock & Wilcox Company (BWC). The fund exited positions in DeVry Education Group Inc. (DV) and Brocade Communications Systems, Inc. (BRCD).
Blue Harbour's top ten positions for the quarter are outlined below.
Blue Harbour's activist interest
In July, August, and October, the fund boosted its positions in Rowan Companies plc (RDC), Investors Bancorp, Inc. (ISBC), and Allscripts Healthcare Solutions, Inc. (MDRX). These positions were disclosed via the fund's 13D filings.
About Blue Harbour Group
On its company website, this Greenwich, Connecticut-based fund notes
"Blue Harbour partners on an exclusively collaborative basis with company management teams to design and implement strategies to unlock significant shareholder value over a two-to-three-year horizon. These strategies are often similar to the strategic actions that private equity investors pursue after taking a company private."
"Candidates for investment must be well-managed, high-quality businesses that are fundamentally undervalued and trading at a discount to intrinsic value. They must possess favorable industry dynamics, sustainable franchises and recurring free cash flow business models."