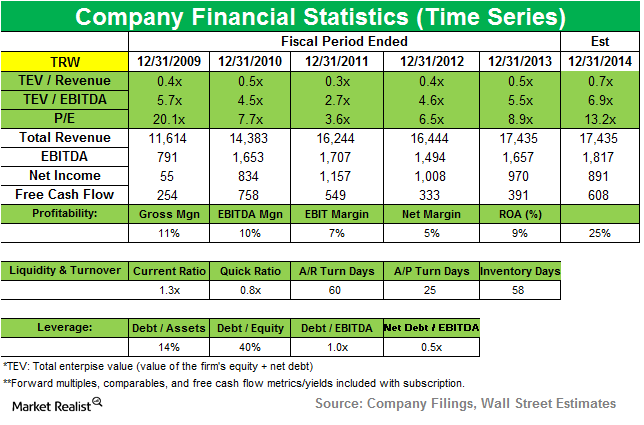 GAMCO starts new position in TRW Automotive Holdings
By Samantha Nielson

Nov. 27 2019, Updated 2:43 p.m. ET
GAMCO adds TRW position

During the third quarter, GAMCO Investors started a new position in TRW Automotive Holdings Corp. (TRW). The position accounted for 0.63% of the fund's 3Q14 portfolio.
TRW Automotive Holdings overview
TRW Automotive Holdings supplies vehicular systems, modules, and components to original equipment manufacturers and related aftermarkets globally. The firm mainly designs, manufactures, and sells active and passive safety-related products. Products often integrate electronics components and systems. Four segments comprise the business:
chassis systems
occupant safety systems
electronics
automotive components
TRW said that 83% of its 2013 end-customer sales were made to major original equipment manufacturers.
TRW to be acquired by ZF Friedrichshafen
Article continues below advertisement
Livonia, Michigan-based TRW announced in July that it was going to be acquired by German auto parts maker ZF Friedrichshafen AG for approximately $13.5 billion. A press release noted that the transaction will create a global leader in the automotive supplier business with 138,000 employees and pro forma combined sales of approximately 30 billion euros ($41 billion). The release went on to say that the combined entity is expected to benefit from "favorable megatrends in the automotive industry by bringing together complementary product offerings and leading technology positions that serve high-growth areas such as fuel efficiency, increased safety requirements, and autonomous driving."
In September, TRW sold its engine valve business to Federal-Mogul Holdings Corporation for a purchase price of $385 million.
Sales decline 1% and miss estimates
TRW said its 3Q14 sales of $4.2 billion fell 1% from the prior year period and missed estimates. The firm saw increasing demand for its safety technologies and higher vehicle production volumes in North America and China. These gains were more than offset by the negative impact related to exiting certain businesses within the company's North American brake component and assembly operations. GAAP net earnings of $189 million or $1.61 per diluted share were slightly down from $197 million or $1.60 per diluted share in the 2013 period. Adjusted EBITDA was $434 million in the third quarter of 2014, compared to the prior-year level of $403 million.
The firm said it anticipates full-year 2014 sales of around $17.4 billion. Full-year industry production volumes are forecast to total 17.0 million units in North America and 19.9 million units in Europe. TRW expects vehicle production volumes to expand in China and remain sluggish in Brazil, where negative economic conditions may continue to prevail.
Other 3Q14 activities at GAMCO
Mario Gabelli's GAMCO Investors also added new positions in Weatherford International (WFT) and Liberty Media Corporation Class C in the third quarter. GAMCO acquired stakes in Concur Technologies Inc. (CNQR), Sigma-Aldrich Corp. (SIAL), and Bally Technologies Inc. (BYI), all of which are currently involved in merger and acquisition transactions. The fund added to its positions in Sony Corp ADR, the Interpublic Group of Companies Inc., and Chemtura Corporation as well.
The next part of this series will highlight GAMCO's new position in Liberty Media.