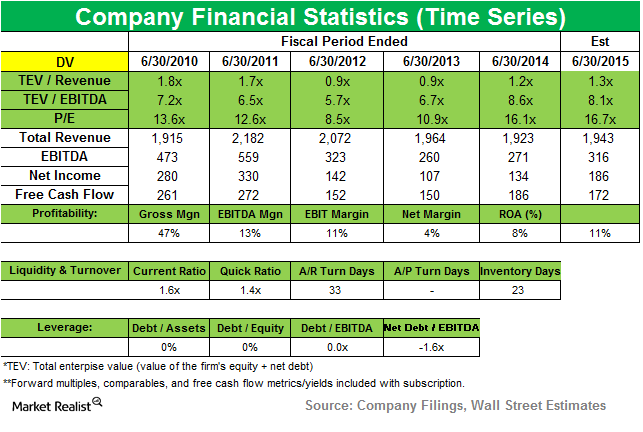 Blue Harbour exits position in DeVry Education Group
Blue Harbour exits DeVry Education Group

Clifton S. Robbins's Blue Harbour Group added new positions in Rackspace Hosting, Inc. (RAX) and AGCO Corporation (AGCO) in 2Q14 ended in June. It also raised positions in Akamai Technologies, Inc. (AKAM) and Babcock & Wilcox Company (BWC).
The fund exited positions in DeVry Education Group Inc. (DV) and Brocade Communications Systems, Inc. (BRCD). Since July, the fund has boosted its positions in Rowan Companies plc (RDC), Investors Bancorp, Inc. (ISBC), and Allscripts Healthcare Solutions, Inc. (MDRX).
Blue Harbour's largest exit during 2Q14 was from DeVry Education Group Inc. (DV). The position accounted for 5.96% of the fund's 2Q14 portfolio.
Overview of DeVry Education Group
DeVry Education Group Inc., or DeVry, is a global provider of educational services and the parent organization of institutions offering a wide array of programs in healthcare, business, technology, accounting, and finance:
Article continues below advertisement
American University of the Caribbean School of Medicine
Becker Professional Education
Carrington College
Chamberlain College of Nursing
DeVry Brasil
DeVry University and its Keller Graduate School of Management
Ross University School of Medicine
Ross University School of Veterinary Medicine. These institutions
DeVry conducts its educational operations in the United States, the Caribbean Islands—in the countries of Dominica, St. Kitts and St. Maarten—Brazil, Canada, Europe, the Middle East, and the Pacific Rim.
DeVry operates three reporting segments:
Medical and Healthcare – including the operations of American University of the Caribbean, Ross University School of Medicine, Ross University School of Veterinary Medicine, Chamberlain College of Nursing and Carrington College
International and Professional Education – including the operations of DeVry Brasil and Becker Professional Education
Business, Technology and Management – composed solely of DeVry University
Why shares rose in April
Shares surged in April, reaching the highest level in two years, after the company posted its third-quarter fiscal 2014 results. Despite drops in earnings and revenue, the results topped analyst estimates. Management noted that the company is continuing to "turn around and transform DeVry University, including narrowing the rate of decline in new student enrollment, improving student persistence, and accelerating cost reduction initiatives."
DeVry University has seen revenue fall in previous fiscal years due to a decrease in new and total student enrollments. The decline is expected to continue into fiscal year 2015.
Education stocks have also faced competition challenges and state and federal probes of for-profit colleges. In July, DeVry said it was under investigation by the New York Attorney General for alleged "false advertising and deceptive practices" with respect to television ads and online marketing.
Revenue decline for fiscal 2014
Article continues below advertisement
For the fiscal year 2014 ended in June, DeVry reported total consolidated revenues of $1.923 billion—that's down 2.1% compared to last fiscal year. Revenues decreased 15.2% in the Business, Technology and Management segment as a result of a decline in student enrollments and an increase in scholarships.
Meanwhile, DeVry saw revenue increases of 14.4% in the Medical and Healthcare segment and 16.0% in the International Professional Education segment. These increases came from growth in total student enrollments and tuition hikes.
The DeVry Brasil additions of Unifavip, acquired on September 3, 2012, and Facid, acquired on July 1, 2013, contributed to offsetting the revenue decline during fiscal year 2014. Revenue increases at the existing DeVry Brasil institutions also contributed to the offset.
Earnings and revenue growth in fiscal 1Q15
DeVry's 1Q15 results announced in September saw revenue increase 2.5% to $462 million. The organization's overall net income was $20.4 million, compared to a net loss of $7.1 million last year. Reported diluted earnings per share was $0.31, compared to a diluted loss per share of $0.11. DeVry attributed the results to its growth and diversification strategy. Excluding DeVry University, revenue grew in all of its institutions.