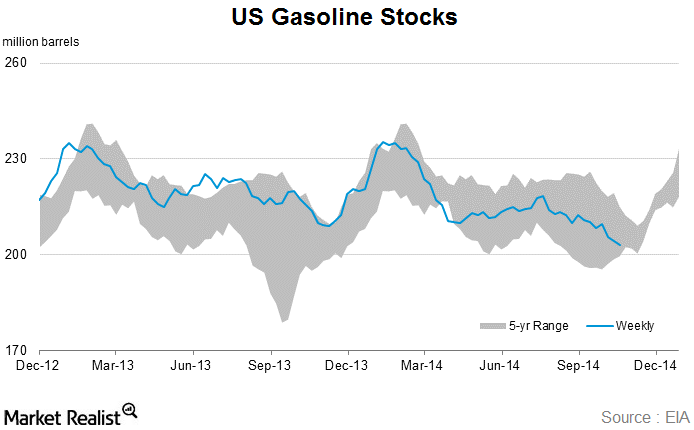 Why gasoline inventories decreased last week
Gasoline inventories
Last week, gasoline inventories decreased by 1.2 million barrels (or MMbbls) to 203.1 MMbbls. Analysts were expecting inventories to decline by 900,000 barrels.
Gasoline production and demand
Gasoline production decreased from 9.3 MMbbls to nine MMbbls last week. Demand levels maintained the previous week's levels—close to 8.8 MMbbls.
Therefore, declining gasoline production explains the decline in inventory levels. Gasoline production declined due to lower refinery utilization (Part 3).
Decreasing stocks are positive for gasoline prices. Gasoline prices affect refineries' margins—like Valero Energy (VLO), Phillips 66 (PSX), Marathon Energy (MPC), and Tesoro Corp. (TSO). Most of these companies are part of the Energy Select Sector SPDR ETF (XLE).
Outlook for gasoline
According to the U.S. Energy Information Administration's (or EIA) latest "Short-Term Energy Outlook" (or STEO)—released on October 7, 2014—total U.S. liquid fuels consumption, including gasoline, will fall by 40,000 barrels per day (or bpd)—or 0.2%.
Gasoline consumption will fall by 20,000 bpd, or 0.2%, in 2014. It will fall by another 20,000 bpd in 2015 as improving fuel economy in new vehicles "offsets highway travel growth."
Article continues below advertisement
Also, the International Energy Agency (or IEA) estimates that total non-Organization for Economic Cooperation and Development (or OECD) gasoline consumption growth was 3.8% in the first half of 2014. This growth was significantly higher than the consumption growth for distillates—including diesel—which grew 0.7% over the same period.
In the next part of the series, we'll discuss changes in distillate inventories last week.