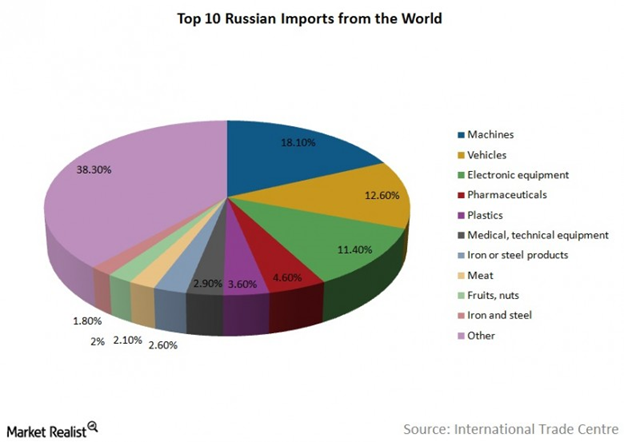 Why the Russian crisis could escalate and equities could fall another 20%
By Liam Odalis

Nov. 21 2019, Updated 3:28 p.m. ET
Why the Russian crisis could escalate:
Volatility spiked for the Russian stock market after February 22, 2014, when protesters ousted Ukrainian president Viktor Yanukovych and seized control of Kiev. This situation quickly worsened after March 18, 2014, when Putin annexed Crimea, sending the ruble from 34:1 to the dollar in June to 40:1 this week. Conditions continue to worsen as Putin announced a program last week to isolate the Internet in Russia and as investors speculate on the risk that the Russian central bank imposes capital controls.
The Russian stock market has been incredibly volatile during a period of low global volatility and central bank easing. Broadly represented by the VanEck Vectors Russia ETF (RSX), the Micex Index has fallen 18% since the end of June and is down 20% year-to-date.
Article continues below advertisement
Despite Putin's recent peace treaty with the Ukraine, drafted on September 3, 2014, the Micex index has continued to crash due to ongoing US and EU sanctions. The Russian government has worsened investor sentiment by sending arms to Russian rebels in Ukraine and allowing Russian soldiers to volunteer their "vacation" time to fight against the Ukrainian army.
Russia's Finance Minister, Alexei Kudrin recently admitted that Russia's economy could remain weak for the next 2-3 years, even in an optimistic scenario. Kudrin isn't just another talking head either; he is a close friend of Putin and is currently on the board of Sberbank, Russia's largest bank. If Kudrin is bearish, we should be bearish, too.
Back in August, the U.S. imposed sanctions primarily targeting Russia's economy and the flow of investments into Russia. These sanctions were issued against Russia's defense and energy industries, as well as important Russian banks and government officials. Since the peace treaty was signed, Western nations have applied more sanctions, targeting Russia's lucrative energy industry in an effort to prevent further aggression from Moscow.
Article continues below advertisement
Russia has fought back with its own sanctions, which will probably hurt its economy more than the West due to the domestic inflationary pressures this will inevitably create. Russia has a population of 150 million people who rely on foreign foodstuffs for about 40% of their consumption. This reliance on imports for dietary consumption will create inflation unless Russia is able to find substitutes for imports soon from countries like Brazil, Argentina, Turkey, Ecuador, and Chile.
Russia's August 7th sanctions on imports of fruit, vegetable, meat, fish, milk and dairy from the US, EU, Australia, Canada, and Norway will be worse for Russia than for the US or the EU. Other than energy, Russia does not trade enough with the West to pose a major threat. The countries that do rely heavily on Russia, like Estonia, Latvia, and Lithuania, support the sanctions because a Russian victory in the Ukraine would threaten their sovereignty. Lithuania is the most vulnerable EU nation to Russian sanctions, where exports of the banned Russian products are equivalent to 2.5% of gross domestic product (or GDP).
One major sanction related risk for Russia is rising consumer inflation, due to a weakening domestic currency and lack of cheap, imported goods. Another major risk is that Russia's growth could deteriorate materially because of a lack of investment, demonstrated by an estimated $100 billion of capital outflows in 2014 and a decline in international trade due to sanctions. Both inflation and falling GDP growth will be negative for both the VanEck Vectors Russia ETF (RSX) and for the iShares MSCI Emerging Markets ETF (EEM). In addition, this will be negative for Russian ADRs, including Mobile Telesystems (MBT), Vimpelcom (VIP), and Yandex (YNDX).