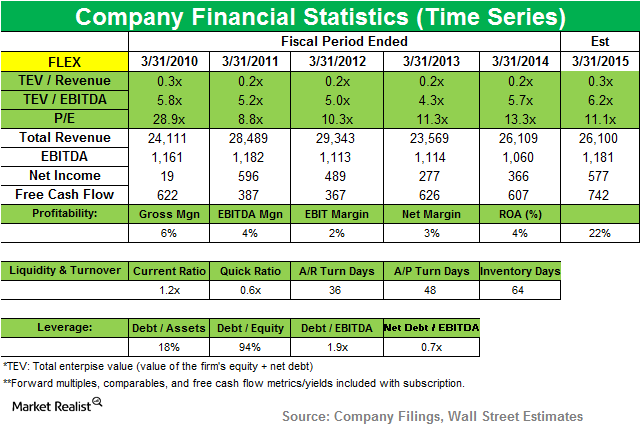 Why Glenview Capital increases position in Flextronics
By Samantha Nielson

Sep. 10 2014, Updated 9:00 a.m. ET
Glenview Capital and Flextronics
Larry Robbins' Glenview Capital bought new positions in National Oilwell Varco (NOV), Cadence Design Systems (CDNS), and Brookdale Senior Living (BKD). The fund raised positions in VCA Inc. (WOOF) and Flextronics International (FLEX).
Glenview Capital upped its position in Flextronics International (FLEX). Currently, the position accounts for 4.50% of the fund's 2Q14 portfolio—up from 3.64% in the 1Q14 portfolio.
Article continues below advertisement
Flextronics provides advanced design, manufacturing, and services to original electronic product equipment manufacturers (or OEMs). It's one of the world's largest providers of global supply chain solutions. It has revenues of $26.1 billion in fiscal year 2014. The company's strategy is to provide customers with a full range of cost-competitive, vertically-integrated global supply chain solutions, so it can design, build, ship, and service a complete packaged products for its OEM customers.
Flextronics has four business groups:
High Reliability Solutions (or HRS) – includes medical, automotive, defense, and aerospace businesses
Consumer Technology Group (or CTG) – includes the mobile devices business—including smart phones; consumer electronics business—including game consoles and wearable electronics; and high-volume computing business—including various supply chain solutions for notebook personal computing (or PC), tablets, and printers
Industrial and Emerging Industries (or IEI) – includes household appliances, semi-cap equipment, kiosks, and energy and emerging industries businesses
Integrated Network Solutions (or INS) – includes telecommunications infrastructure, data networking, and connected home, server, and storage businesses
The company noted that with the increased level of diversification—mainly in the technology sector—the manufacturing and supply chain landscape has changed. It acquired certain manufacturing operations from Google's Motorola Mobility LLC during the first quarter of fiscal 2014. As a result, Flextronics said it has experienced an increase in the percentage of its revenues from the CTG business group.
Fiscal 1Q15 sales and earnings above guidance
Article continues below advertisement
For first quarter fiscal 2015, Flextronics said net sales exceeded guidance—increasing over $850 million, or 15% year-over-year (or YoY), to $6.6 billion. Adjusted earnings per share (or EPS) was at $0.25. This was also above guidance. It increased 39% YoY. The revenue increased mainly from the CTG and IEI business groups. However, INS saw a marginal decrease YoY. The increase in revenue from the IEI business group was due to an increase across product categories. The increase was noticeable in the semiconductor capital equipment and household appliance businesses—compared to the same period last year.
September quarter guidance below estimates
Google—including Motorola—accounted for more than 10% of Flextronics' net sales during the three-month period ending June 27, 2014. On the earnings call, management said that it expects a high single-digit sequential decline in CTG segment revenue for the September quarter. It expects flat sequential growth in the December quarter due to "conservative expectations for our largest customer." Flextronics forecast the September quarter's revenue to be in a range of $6.2–$6.6 billion. The guidance was below analysts' estimates.
Gains approve for additional share repurchases
Recently, Flextronics said it received shareholder approval to purchase up to 20% of its outstanding shares. The board also approved the purchase of an aggregate amount of up to $500 million. The company repurchased 10.5 million shares during fiscal 1Q15 for $106 million. Flextronics said it has purchased ~$1.7 billion, or 247 million, of its shares over the last four years.