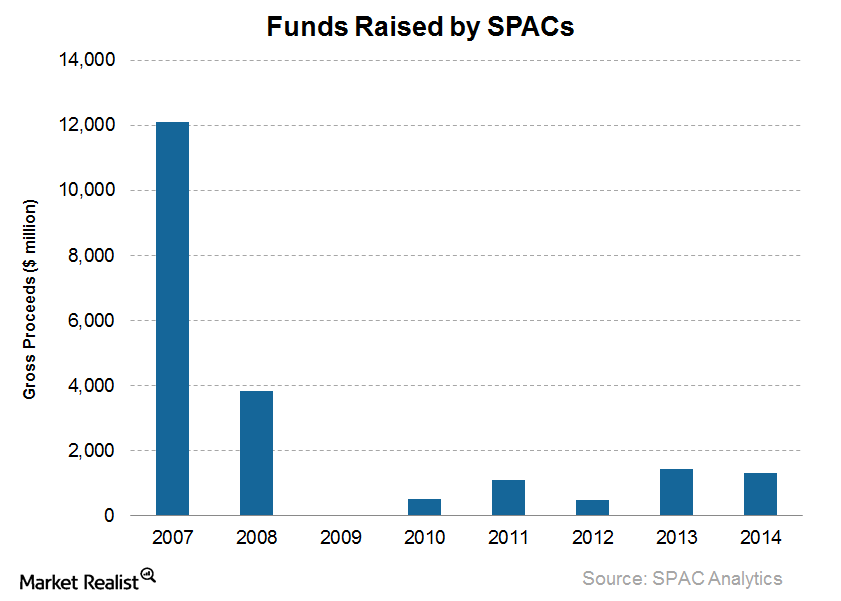 Why Davidson Kempner adds new position in WL Ross Holding
By Samantha Nielson

Oct. 29 2019, Updated 8:01 p.m. ET
Davidson Kempner and WL Ross Holding
Davidson Kempner Capital added new positions in Ally Financial Inc. (ALLY), WL Ross Holding (WLRH), Newell Rubbermaid (NWL), and B/E Aerospace (or BEAV). It exited positions in Equity Commonwealth (EQC), Omnicom (OMC), and JPMorgan Chase & Co. (or JPM).
Davidson Kempner initiated a new position in WL Ross Holding (WLRH) that accounted for 1.85% of the fund's 2Q14 portfolio.
Overview of WL Ross Holding
Article continues below advertisement
WL Ross is a newly organized blank check company. It was formed by billionaire Wilbur Ross. It was formed to affect a merger, capital stock exchange, asset acquisition, stock repurchase, stock purchase, reorganization, or similar business combination with one or more businesses. Such blank check companies are also known as special purpose acquisition companies (or SPAC).
Raises net proceeds of $500 million through IPO
WL Ross debuted in the first week of June. In the initial public offering (or IPO) filing, it said that it sold 50,025,000 units. Each unit had an offering price of $10. Each unit consisted of one share of its common stock and one warrant. Each warrant entitled the holder to purchase one-half of one share of the company's common stock at a price of $5.75 per half share. This was subject to adjustment. The company said it generated net proceeds of $500 million.
Strategy focused on "distressed" acquisitions
WL Ross said its activities mainly consist of identifying and evaluating prospective acquisition candidates for a business combination. It the IPO filing, it said it "intends to identify, acquire, and operate a business that is experiencing under-performance or distress, operating in an industry undergoing a period of dislocation, and/or is involved in a structurally complex or special situation, which is called value-oriented investment opportunities."
The company added that its management team is led by chairman and CEO Wilbur L. Ross, Jr. He has 17 years of experience in the private equity industry. He also has 24 years of prior experience in the restructuring financial advisory industry.
WL Ross said that as of June 30, 2014, ~$481,940,850—excluding ~$18,309,150 of deferred underwriting discounts—was held in trust to consummate a business combination. An SPAC also requires the approval of 80% of its shareholders to make an acquisition.
According to U.S. Securities and Exchange Commission (or SEC) regulations, if blank check companies are unable to complete an acquisition within 18 months after the effective date of the company's registration statement, funds held in the trust or escrow account are returned to investors.
A Reuters report cited data from SPAC Analytics. It noted that ten blank check companies raised $1.44 billion in 2013. This was the highest level since 2008. The latest data from the SPAC Analytics website indicated that eight blank check companies have raised $1.31 billion.
In the next part of this series, we'll discuss Davidson Kempner's new position in Newell Rubbermaid (NWL).