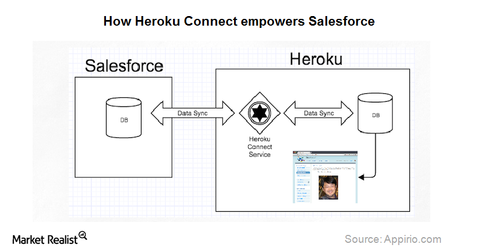 Why Salesforce.com's Heroku is becoming a popular platform
By Anne Shields

Updated
Salesforce.com's strategic Heroku acquisition to expand its capabilities
Recently, Salesforce.com (CRM) has been quite aggressive in its acquisitions to build its applications portfolio. To further expand its presence in the cloud space, it acquired Heroku in 2010 for $212 million. Heroku is developed on open source technologies like Ruby, Node, PHP, and Python.
Despite Heroku being added to Salesforce.com, both entities continued to work independently. In November 2013, the company announced about Heroku1, which links the Heroku cloud service with the Salesforce.com flagship CRM (or customer relationship management) applications. This would allow Heroku-based applications managed by Postgres to access all the business data stored on Salesforce.com, which is managed by Oracle (ORCL) databases.
Any positive news about Heroku is expected to benefit Salesforce.com investors and exchange-traded funds (or ETFs) such as the First Trust DJ Internet Index Fund (FDN) and the First Trust ISE Cloud Computing Index Fund (SKYY).
What is Heroku?
Heroku is a PaaS (or platform as a service) built on Amazon Web Services' (AMZN) infrastructure. It's a cloud application platform that's fully scalable and provides a streamlined, efficient place for web app developers to create and deploy their applications.
Since the entire web application development process is available on it, creating and rolling out web apps will be an efficient, convenient, and cost-effective process. It's highly popular, owing to its ease of use for developers who prefer to focus on applications rather than infrastructure.
Salesforce1 Heroku Connect launched to connect business processes with customer experiences.
Article continues below advertisement
As more and more mobile apps are coming into the market, there's an increased need for organizations to connect with the customers. Heroku1 is developed to provide a complete service for building and scaling the next generation of customer connected apps. In the words of Matt Soldo, Heroku's senior director of product management, Heroku1 solves the three biggest problems that enterprises face when building connected apps:
Connected data
Speed to market
Ongoing operations
The Heroku1 platform works on the Heroku Connect database, which automatically syncs customer and operational data from Salesforce.com into Heroku Postgres.
Heroku Connect and Connected Customer App package to ease the integration between Heroku mobile and Salesforce1
To ease the integration between Heroku mobile development tools and Salesforce1, Salesforce.com launched a Salesforce1 Heroku Connect and Salesforce1 Connected Customer App package. Combined together, they integrate Salesforce1 login information into Heroku's back end processes and give users real-time insight into customer interaction with their apps.