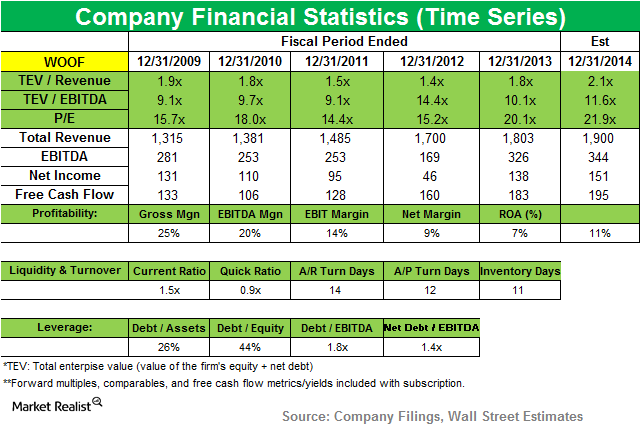 Must-know: Glenview Capital ups position in VCA
By Samantha Nielson

Sep. 9 2014, Updated 5:00 p.m. ET
Glenview Capital and VCA
Larry Robbins' Glenview Capital bought new positions in National Oilwell Varco (NOV), Cadence Design Systems (CDNS), and Brookdale Senior Living (BKD). The fund raised positions in VCA Inc. (WOOF) and Flextronics International (FLEX).
Glenview Capital upped its position in VCA Inc. (WOOF). VCA was earlier known as VCA Antech. Currently, the position accounts for 1.79% of the fund's 2Q14 portfolio—up from 0.32% of the 1Q14 portfolio. A 13G filing at the end of August revealed that Glenview increased its stake in VCA from 8.7 million shares at the end of 2Q14. Currently, it owns 14.85% of the company with ~12.8 million shares.
Article continues below advertisement
VCA is a North American animal healthcare company. It provides veterinary and diagnostic testing services. VCA supports veterinary care. It sells diagnostic imaging equipment and other medical technology products and related services to veterinarians. It provides online and printed communications, education, and information. It also provides the veterinary community with analytical marketing solutions. The company has two reportable segments:
Animal Hospital segment – operates the largest network of freestanding, full-service animal hospitals. The hospitals offer a range of general medical and surgical services for companion animals. On June 30, 2014, the animal hospital network consisted of 612 animal hospitals in 41 U.S. states and four Canadian provinces.
Laboratory segment – operates the largest network of veterinary diagnostic laboratories. The laboratories provide sophisticated testing and consulting services. The services are used by veterinarians to detect, diagnosis, evaluate, monitor, treat, and prevent diseases and other conditions that affect animals. On June 30, 2014, the laboratory network consisted of 59 laboratories serving all 50 U.S. states and certain areas in Canada.
VCA's revenue increase
VCA's 2Q14 results beat on earnings estimates, but missed on revenue. Revenue increased 5.2% to $489.5 million. The company posted a gross profit increase of 5.4% to $120.4 million. It had a net income increase of 9.4 % to $45.6 million. Diluted earnings per common share increased 10.9% to $0.51.
Article continues below advertisement
The revenue increase was attributed to organic growth and margin improvement in core Animal Hospital and Laboratory business segments and acquisitions. The Animal Hospital segment saw same-store revenue growth of 2.2%. During the quarter, VCA acquired six independent animal hospitals. They had a combined annual revenue of $12.1 million.
In May, VCA's Sound-Eklin diagnostic imaging division headquarters were severely damaged by the fires that swept through Carlsbad, California. The revenues in its other segment, which included Sound-Eklin, reported a decrease to $23.7 million.
Pet spending to increase 
According to the American Pet Products Association (or APPA), pet spending in the U.S. is estimated to reach $58.5 billion in 2014—a 4.9% increase over 2013. According to the association, the growth will be driven by a stream of entrepreneurs introducing new products. Also, investors are infusing money into new and existing companies. In a statement, APPA said that pet services showed the largest percentage of growth in 2013. Pet services are expected to grow more this year. Veterinary care experienced significant growth in 2013. It had $14.37 billion in spending—second only to food category spending.