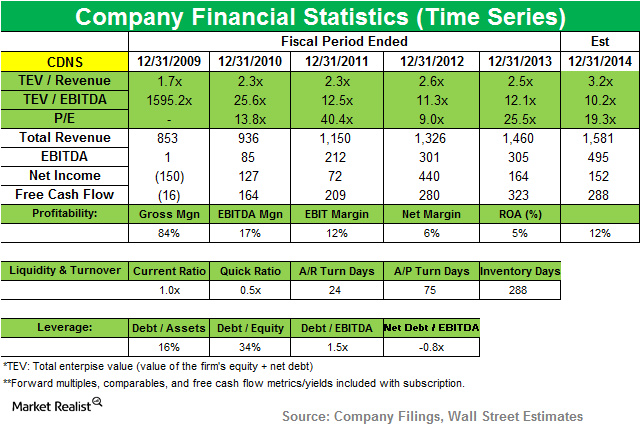 Glenview Capital starts new position in Cadence Design Systems
By Samantha Nielson

Nov. 7 2019, Updated 7:38 p.m. ET
Glenview Capital and Cadence Design Systems
Larry Robbins' Glenview Capital bought new positions in National Oilwell Varco (NOV), Cadence Design Systems (CDNS), and Brookdale Senior Living (BKD). The fund raised positions in VCA Inc. (WOOF) and Flextronics International (FLEX).
Glenview Capital disclosed a new position in Cadence Design Systems (CDNS) that accounts for 1.21% of the fund's 2Q14 portfolio.
Article continues below advertisement
Cadence Design Systems is based in San Jose, California. It develops solutions for its customers to design increasingly small and complex integrated circuits (or ICs) and electronic devices. Its product offerings include electronic design automation (or EDA), software, emulation hardware, and two categories of intellectual property (or IP)—commonly referred to as verification IP (or VIP) and design IP.
The company's software, hardware, IP, and services are used to design and verify advanced semiconductors, consumer electronics, networking and telecommunications equipment, and computer systems. The company's customers include semiconductor and electronic systems companies that operate in a number of market segments like mobile devices, communications, cloud and data center infrastructure, personal computers, and other devices.
Cadence enhances IP offerings through acquisitions
Cadence expanded its design IP offerings last year through acquisitions of Tensilica Inc.—a privately held provider of configurable dataplane processing units—and Cosmic Circuits Private Ltd.—a privately held provider of intellectual property used in system-on-chip design.
Article continues below advertisement
In January, Cadence bought TranSwitch Corporation's high speed interface IP assets. It purchased the assets to enhance its IP portfolio in the mobile and consumer markets. In February, the company bought Forte Design Systems—a provider of SystemC-based high-level synthesis (or HLS) and arithmetic IP.
In April, the company completed the acquisition of Jasper Design Automation.—a leading provider and pioneer of formal analysis and verification tools for IP and system-on-chip (or SoC) development. Cadence bought it for $170 million in cash. Cadence said these acquisitions expanded the capabilities and differentiation of the Cadence System Development Suite. The acquisitions strengthened its offerings for advanced design IP development and verification.
New digital wins drive 2Q14 growth
For 2Q14, Cadence posted revenue of $379 million—compared to revenue of $362 million for the same period in 2013. On a generally accepted accounting principles (or GAAP) basis, Cadence recognized net income of $23 million, or $0.08 per share on a diluted basis. It had net income of $9 million, or $0.03 per share on a diluted basis, in the same period in 2013. Management said on the earnings call that the company grew in 2Q14 on the back of "new business wins in digital, continued momentum in system design and verification solutions, and progress in its IP business." They added that key growth drivers include "the increase in FinFET and 64 bit mobile design activity."
EPS outlook lowered for 2014
In the earnings release, management noted that they're reducing Cadence's earnings per share (or EPS) outlook for the year "due to lower hardware gross margins that are under competitive pressure, and higher diluted share count because of the impact of a higher share price on calculated dilution from its 2015 convertible notes."
For 2014, the company expects total revenue in the range of $1.570–$1.590 billion. On a GAAP basis, net income per diluted share for 2014 is expected to be in the range of $0.48–$0.56.