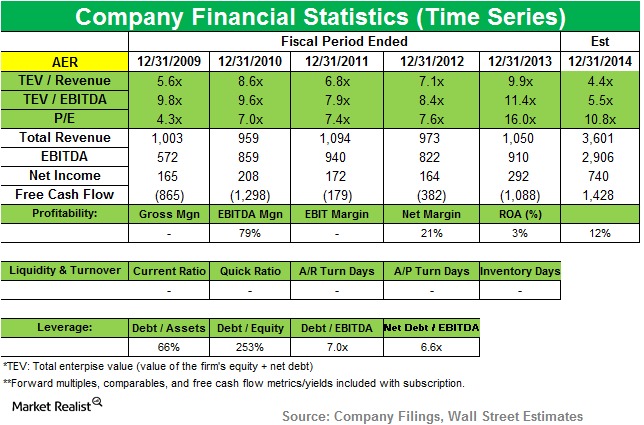 Why Greenlight Capital starts new position in AerCap Holdings
Greenlight Capital and AerCap Holdings
David Einhorn's Greenlight Capital initiated new positions in Civeo Corp. (CVEO), AerCap Holdings NV (AER), Time Inc. (or TIME), and Chemtura Corp. (CHMT). It added to its positions in SunEdison Inc. (SUNE) and Lam Research (LRCX).
Greenlight disclosed a new position in AerCap Holdings NV (AER). It accounts for 1.42% of the fund's 2Q14 portfolio.
Netherlands-based AerCap is an integrated global aviation company. It has a leading market position in aircraft leasing. It acquires aviation assets at attractive prices and leases the assets to suitable lessees. It efficiently manages the funding and other lease related costs. It also provides aircraft management services. AerCap has 1,300 owned and managed aircraft in its current fleet. It has an attractive portfolio of 363 high-demand, fuel-efficient aircraft on order. AerCap serves over 200 customers in more than 90 countries with comprehensive fleet solutions. It provides part-out and engine leasing services through its subsidiary, AeroTurbine.
Integration with ILFC is on track
Article continues below advertisement
Shares have surged since the company announced the acquisition of International Lease Finance Corporation (or ILFC) from American International Group Inc. (or AIG). Under the terms of the agreement, AerCap paid AIG $3 billion in cash and 97,560,976 AerCap ordinary shares. This represented an ~46% ownership position in AerCap's ordinary share capital. The cash portion of the consideration is expected to be funded through a combination of new debt financing and cash of the combined company. As part of the transaction, AerCap will assume ~$21 billion of ILFC's debt. AIG will also provide AerCap with a committed five-year $1 billion unsecured revolving credit facility. AerCap said in its latest results announcement that the ILFC integration activities are on track.
Acquisition drives improvement in financial performance
2Q14 results beat estimates with net income of $138.3 million compared to $75.7 million for the same period in 2013. 2Q14 reported basic earnings per share (or EPS) of $0.84 compared to $0.67 for the same period in 2013. The increase in net income and EPS over 2Q13 was driven primarily by the ILFC transaction. Total revenues surged 227% to $806.8 million from $247 million.
AerCap executed 122 aircraft transactions during 2Q14. It said in its earnings release, "As of June 30, 2014, we had committed to purchase 350 aircraft with scheduled delivery dates up to 2022. Over 90% of our committed aircraft purchases delivering 2014 through December 2016 and ~50% of our committed aircraft purchases delivering 2014 through 2022 are placed, either under lease contract or a letter of intent."
Fitch positive on aircraft leasing sector
Article continues below advertisement
AerCap competes with General Electric's (GE) GE Capital Aviation Services (or GECAS), Aircastle Limited (or AYR), Air Lease Corp (or AL), and Fly Leasing Limited (or FLY). Fitch said in a recent release that "The aircraft leasing sector has experienced another year of strong performance, which has been characterized by strong airline industry fundamentals, favorable credit markets, improving lease rates and consolidation among lessors. Profitability in the airline industry has continued to improve this year, which has resulted in a lack of significant credit issues among the lessors."
Fitch noted that AerCap's acquisition of ILFC—which closed in May, 2014—was an important and positive industry development because it "represented what is expected to be the last transfer of a large fleet of leased aircraft."
Fitch also believes that "a material consolidation in the industry is now complete, with two large players—AerCap and GECAS—controlling close to half of all lessor-owned aircraft globally. An increase in the sector's market capitalization has increased investor visibility and should lead to improved access to capital markets for other aircraft lessors such as the IPOs of Avolon and China Aircraft Leasing Co."