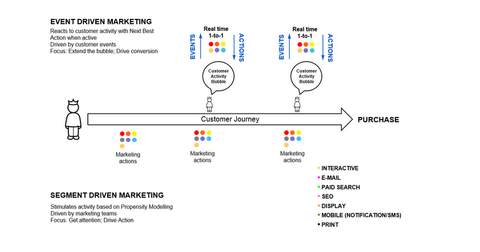 SeeWhy acquisition complements SAP's marketing initiative
By Anne Shields

Updated
Overview of SeeWhy
In June, 2014 SAP AG (SAP) acquired SeeWhy, a company that provides cloud-based behavioral target-marketing solutions. Through its patent Core platform, SeeWhy analyzes the customer's behavior to personalize marketing solutions. Through digital media—including email, desktops, mobile, and social channels—SeeWhy delivers one-on-one marketing campaigns that lead to increased customer engagement and drive revenues.
Article continues below advertisement
The above presentation shows how the SeeWhy Core platform enables real-time one-to-one marketing. The Core platform analyzes data differently from traditional architectures, in the sense that there are no data warehouses, no data batches, and no segments required. Instead, as the data pours in, patented "Core" technology employs in-memory processing that analyzes everything starting from the first visit to purchase in real time, triggering the next best course of action for that unique customer in that moment. The resultant actions are then implemented on an ecosystem of e-commerce and e-mail service providers, web analytics services, and social networks.
Other acquisitions to boost e-commerce platform
In August 2013, SAP acquired Hybris. Hybris is a Switzerland-based e-commerce platform that is designed to sell products and services across channels, which includes brick-and-mortar outlets, websites, and mobile devices. In 2012, SAP acquired Ariba. Ariba is an online marketplace and business commerce network that used to be a leader in cloud-based collaborative commerce apps. In 2011, SAP acquired Crossgate, a business-to-business e-commerce provider.
SAP plans to build marketing platform
SAP reported that SeeWhy's acquisition complements its Hybris acquisition. So SeeWhy will be integrated with Hybris' e-commerce platform, enhancing the delivery of one-on-one personalized marketing campaigns.
Behavioral marketing targeted acquisitions
The commerce side of behavioral marketing is catching up fast. SAP, Oracle (ORCL), Salesforce.com (CRM), and IBM (IBM) are keen to include behavioral marketing companies in their portfolio. In the last couple of years, Oracle acquired Responsys, a business-to-consumer marketing platform, and BlueKai, a data management platform. In 2014, it acquired Eloqua, a marketing automation platform.
In 2013, Salesforce.com acquired ExactTarget, a company that sells marketing software for $2.5 billion, among others. Adobe Target (ADBE) offers marketing cloud solutions. SAP and Adobe  announced an agreement in March, 2014 under which, SAP would  resell Adobe Marketing Cloud with the SAP HANA platform and the hybris Commerce Suite.
The explosion in "big data" and advanced analytics have highlighted the importance of understanding and personalizing the digital customer experience. It will be clearer in the future if SAP's plans to benefit from this trend through targeted acquisitions will bear fruit.