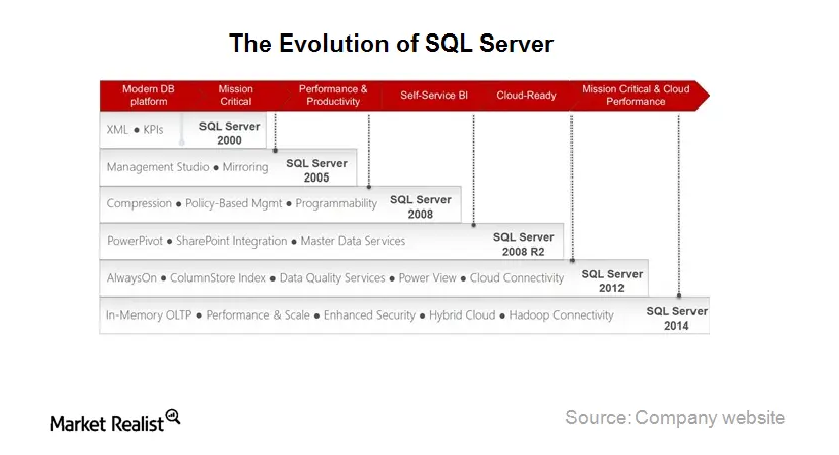 Why Microsoft's SQL Server 2014 may threaten Oracle's leadership
By Anne Shields

Aug. 6 2014, Updated 5:00 p.m. ET
Social, mobile, analytics, and cloud (or SMAC)
The combination of social, mobile, data analytics, and cloud (or SMAC) computing has led to unprecedented growth in data volumes. This growth in data volumes presents multiple challenges as well as opportunities. Stock exchanges, airlines, and hospitals get drowned in the data they receive every minute.
Article continues below advertisement
SQL Server has been one of the most popular products of Microsoft's (MSFT) diversified software and services portfolio. Microsoft launched SQL Server 2014 with memory optimized technologies in April 2014. It believed that data, when combined with the right analytics tools, can be transformed into action. SQL Server's in-memory online transaction processing (or OLTP) feature lets you improve your database applications' performance without any hardware and code changes and delivers speed improvement by ~30 times.
Increased adoption
NASDAQ OMX handles billions of transactions per day and receives multiple petabytes of online data. After adopting SQL Server 2014, the company shared that the storage has reduced by 50% and that some queries, which used to take days, have now been reduced to minutes.
Lufthansa used the combined power of SQL Server 2014 and Microsoft Azure to faster and fuller data recovery for airlines. It also reduced its costs after increasing its focus on customer services and solutions.
The above chart shows the evolution of SQL Server 2014. With each update of SQL Server, several features were added to enhance the speed, storage, and functionalities of databases.

The above chart shows the price-to-performance comparison of enterprise data warehouse appliances from EMC (EMC), IBM (IBM), Microsoft, Oracle (ORCL), and Teradata (TDC). Microsoft has the lowest ratio, both on storage and performance basis. This ratio indicates that it provides high performing and economic data appliances. Oracle appears most expensive among all the players mentioned in the chart.
Microsoft offers numerous hybrid cloud options to provide real value to traditional on-premise organizations. If an organization is using SQL Server, then SQL Server 2014's new hybrid cloud option lets you automate backups to the cloud as well as extend it to the cloud. So, it enables businesses to keep their data on-premise as well as allows them to take advantage of the cloud for backup and disaster recovery.