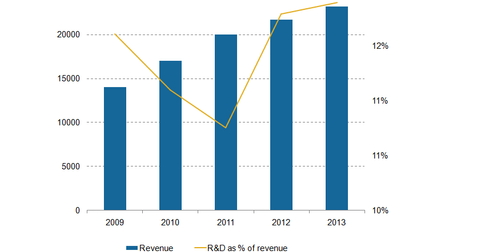 EMC invests in software-defined storage and elastic cloud storage
By Anne Shields

Aug. 19 2014, Updated 4:00 p.m. ET
EMC invests in software-defined storage
The emergence and fast adoption of social, mobile, analytics, and cloud services (or SMAC) has cast dark shadows on the future of external disk storage systems. EMC (EMC) is focused on expanding its product portfolio by focusing on high growth areas and technologies. In 2014, EMC announced new products for its flash, high-end enterprise storage, and scale out-NAS portfolios.
Article continues below advertisement
The previous chart shows EMC's expenditure on research and development as a percent of revenues. It shows us how the company is developing new technologies and staying competitive. Netapp (NTAP), IBM (IBM), Citrix (CTXS), and Cisco (CSCO) have spent research and development as a percent of revenues of ~13%, 6%, 17%, and 12%, respectively.
VMAX3 TM Family
In July, 2014 EMC announced the VMAX3 TM family. VMAX3 transforms VMAX from an enterprise storage to an open enterprise data service platform. It allows organizations to swiftly shift from on premise infrastructure to an agile data center infrastructure. Then, the organizations are in a position to decide whether they chose to run workloads on either data center or cloud. This gives them more control over their decisions and enhances data protection. The main idea with VMAX3 is to increase the scalability of cloud and "big data." This extends the hybrid cloud concept by linking cloud-based storage devices on premises as well as in public cloud.
The company claims VMAX3 leads to 50% reduction in total cost of ownership and enhances performance by three times.
With VMAX3, existing 10K, 20K, and 40K models will be replaced by 100K, 200K, and 400K products. These products will enable its clients to consolidate their enterprise applications. The high-end 400K is flash optimized and delivers 99.99% uptime a year.
EMC acquired Twinstrata in 2014. It's expected that the Twinstratrata's cloud tier technology will be integrated and combined as an embedded data service with VMAX3.
Isilon OneFS
Article continues below advertisement
OneFS 7.1.1, the new version of OneFS, EMC Isilon operating systems launched in July, 2014. It includes new SmartFlash—a flash-based cache for faster data interaction that can be scaled up to one petabyte in a single cluster. Isilon S210 and X410 storage platforms are the recent additions to the portfolio. Isilon S210 has been upgraded for high transaction workloads due to its flexible configuration and deployment. Isilon X410 provides increased efficiency at 33% less cost. It supports Hadoop analytics, high performance computing, and enterprise file applications.
EMC Isilon and Pivotal launched the "Data Lake Hadoop Bundle." It allows users to integrate their "big data" efforts with their Data Lake architecture and improve upon their backup and replication abilities.
XtremIO 3.0, the latest version of XtremIO all flash array, launched in July, 2014. EMC has offered seven-year maintenance price protection and flash endurance program guarantee with a three-year money back guarantee. The updated XtremIO 3.0 is expected to increase the efficiency of existing all flash arrays with the addition of in-memory, metadata space-efficient snapshots to create high-performance application copies while providing inline, always-on data compression.
Availability of applications
In July, 2014 EMC announced the availability of ViPR 2.0 and ViPR SRM 3.5 software. It enables customers to build and manage a modern stage infrastructure on commodity hardware. ViPR empowers Elastic Cloud Storage (or ECS) appliance that provides the benefits of a public cloud with the security and control associated with the private cloud. ECS is being used to digitize the Vatican library and make it available online.